P.G. County Executive Baker Encourages Student Vaccinations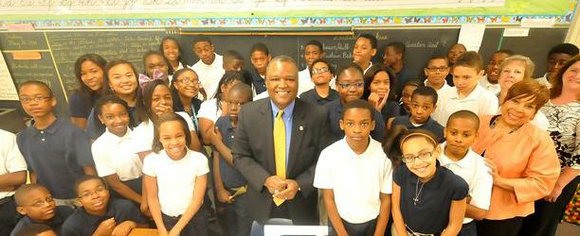 Students enrolled in the Prince George's County Public Schools system begin classes on Aug. 19, and County Executive Rushern Baker III is strongly encouraging parents and guardians to ensure their children are properly vaccinated.
Individual state policies determine which immunizations students need in order to attend school. In Maryland, regulations have changed for the upcoming academic year.
As a result, Baker took to his Facebook page to stress the importance of the vaccinations. He posted a statement from the 124,000-student school system, noting that all students from kindergarten through grade 12 must have received two mumps and rubella vaccines prior to Aug. 19, the first day of school. Students without appropriate documentation will have 20 calendar days to comply.
"Mumps and rubella are serious diseases," the statement reads. "Mumps can cause deafness and meningitis (an infection of the brain and spinal cord). Rubella (also known as German measles), if contracted while pregnant, can lead to a miscarriage or serious birth defects. In addition, both mumps and rubella are airborne diseases that can easily be contracted by simply being near someone who already is infected."
Some parents have reservations about inoculating their children, fearing that the shots can lead to autism. A study conducted in 2010 found that parents who refused vaccines for their children tended to be white, well-educated and well-off, and that vaccination refusals occurred more often in public charter and private schools, as well as in public schools in upper-class areas. Doctors contend that research backing up such claims of danger has yet to be proven.
Proof of immunization must be provided via an updated immunization form or a note to the school from the child's doctor on their letterhead. Some health insurance plans offer an electronic copy of the immunization form that can be submitted to school staff.
Families without health insurance can contact the Division of Maternal and Child Health Immunization Program at the Prince George's County Health Department at 301/583-3300.
Free immunizations are available for children without health insurance, but appointments are required in advance and can be obtained by calling the county health department. Immunization clinic locations include:
Cheverly Health Clinic
3003 Hospital Drive
Cheverly, MD 20785
Hours: 8 a.m. – 3:30 p.m., Mon., Tue., Thur., Fri.
Clinton Health Clinic
9314 Piscataway Road
Clinton, MD 20735
Hours: 8 a.m. – 3:30 p.m., first and third Wednesday of every month (excluding holidays)
Effective Aug. 5, Cheverly's hours of service will shift to Mondays from 12:30 p.m. to 4:30 p.m., Tuesdays and Thursdays from 8:30 a.m. to 4:30 p.m., and Fridays 8:30 a.m.-12:30 p.m. The Clinton clinic will provide immunization service on Aug. 7 and 21 from 8:30 a.m. to 4:30 p.m.