Redskins Ratchet Up Training Camp for Fan Appreciation Day
WI Web Staff | 8/4/2013, 5:21 p.m.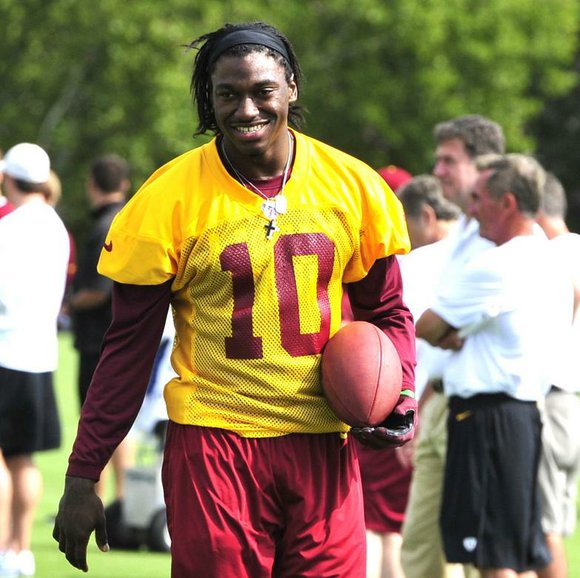 The Washington Redskins' training camp practice Saturday during the team's annual Fan Appreciation Day had some of the camp's most competitive play thus far. Although the preseason has yet to begin, the Redskins' offense got an opportunity to showcase its talent in front of an estimated crowd of more than 25,000 at the team's new Bon Secours Washington Redskins Training Center.
Starting quarterback Robert Griffin III, continuing his recovery from knee surgery, got his work in early. In a 7-on-7 situation, he connected on 13 of 17 passes, the same as he did in Friday's workout. He was replaced by second-string quarterback Kirk Cousins, who effectively led the first team while Griffin observed and cheered.
As the workout progressed there were several two-minute drills and other situations created by head coach Mike Shanahan.
"I thought he had a good week," Shanahan said of Griffin. "The best part about it, there wasn't any setback. As you have a plan going into your first week, you're hoping you can execute that game plan. We were able to do that, and next week we have another game plan for him, and we'll see if he's able to go through that."
Earlier in the week, Griffin said he no longer worries about his knee and that the brace he's worn during his rehabilitation is no longer cumbersome.
"I don't think I'm mindful of it," he said. "I just play football. And that's a sign that you're getting ready. Consistently, I forget my brace like I did on the first day and everybody made a big deal out of that, but I feel great. It's just about [Shanahan] wanting to be real cautious with me and that's understandable. I'm just taking it that way and I feel good in 7-on-7."
The defense had its share of big plays, with linebackers Brian Kehl and Ryan Kerrigan each stopping a running play for negative yards. The team's practices thus far have displayed good energy and high intensity, with both sides of the ball focused on controlling the line of scrimmage.
It was a good week of practice for both Shanahan and Griffin. The team's plan for easing Griffin back into the lineup from knee surgery extends through Tuesday. With Thursday night's preseason game at Tennessee looming, Griffin will be re-evaluated during the three-day break prior to the game.
"The only reason you [wouldn't] keep on going forward with the game plan that you have — because you have a game plan for the first game — [is if] after swelling, there was setback, he doesn't feel comfortable," Shanahan said. "The key for us is not to push him too quick. You don't know how he's going to react in different drills. But right now, there has been no swelling. He feels very good and that's one of the reasons he hasn't had a day off."
Cousins also has had ample opportunity to work with the first team. In his first timed scenario on Saturday, he was given a minute and 15 seconds on the clock and two time-outs to score a touchdown. The Redskins' first-string players moved the ball to the 14-yard line with 6 seconds remaining before Cousins hit tight end Logan Paulsen with a touchdown pass in the middle of the end zone.
The drills also provided an opportunity for the team to practice in front of an NFL officiating crew, which has been doing some training of its own in Richmond over the last few days. There were a few minor infractions called, but no major penalties.
The offense scored two more touchdowns before the workout ended. Wide receiver Santana Moss caught a six-yard touchdown pass and tight end Niles Paul hauled in a 10-yard score. Through nine practices, both sides have presented themselves well, and the fans have been very enthusiastic, especially when Griffin is playing.
"Today marks a historic day in our franchise's history," said Redskins owner Dan Snyder. "With the leadership of Bon Secours Health System, combined with the support from [Virginia] Governor [Bob] McDonnell, [Richmond] Mayor [Dwight C.] Jones and our other outstanding community partners, we were able to bring this unforgettable fan experience to Richmond."
The Redskins are now more than halfway through their 17 sessions of training camp. They'll look to steadily improve as Opening Day approaches.
• John DeFreitas contributed to this report.