Obama Lauds Negro League Veterans
WI Web Staff | 8/6/2013, midnight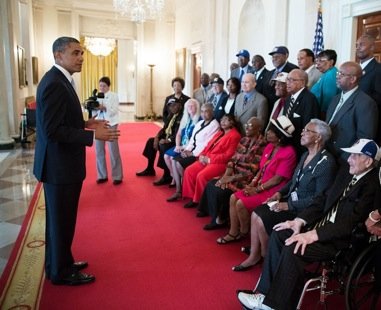 President Obama met Monday with former Negro League baseball players and their family members at the White House, honoring their contributions to the sport and the civil rights movement.
Though the event was closed to the press, several of the invited guests spoke afterwards about the experience of meeting the first African American president.
Jim Robinson, 83, an infielder who sported a Kansas City Monarchs cap, said Obama "talked about the sacrifices we made," USA Today reported.
"I got a chance to shake his hand and told him my name," Robinson said. "I knew his name."
Before Jackie Robinson broke Major League Baseball's color barrier as the league's first African American, blacks were largely relegated to the Negro League, which boasted some of the era's biggest talents such as Satchel Paige and Josh Gibson.