The Week in Sports: Del Potro Beats Isner to Win Citi Open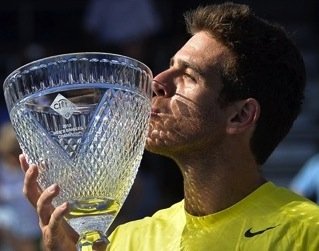 Juan Martin del Potro has grown accustomed to winning the Citi Open and beating John Isner. On Sunday at Rock Creek Park, he did both, prevailing over Isner 3-6, 6-1, 6-2.
It was the third Citi Open championship for the 24-year-old Argentinian and his fourth win against Isner.
The No. 1-seeded Del Potro, who had never lost a set against the eighth-seeded Isner prior to Sunday, dropped the first set to the 28-year-old American.
Isner started strongly — some of his serves reached 135 mph — but visibly tired while del Potro had more than enough energy to get through the match. Del Potro's physical stamina proved to be his best asset against his fatigue-plagued opponent.
Franklin wins sixth gold medal at world championships
Missy Franklin won her sixth gold medal at the world championships Sunday night in Barcelona.
With the accomplishment, the 18-year-old joined an elite group of six-time gold medalists including Mark Spitz, Michael Phelps, Kristin Otto and Ian Thorpe.
Franklin swam the lead-off leg for the Americans in the 400-meter medley relay. After she gave the U.S. a slight lead in the backstroke, her teammates took over from there.
Dana Vollmer, Jessica Hardy and Megan Romano dominated the rest of the way, giving the U.S. the team gold medal. The Americans posted a time of 3 minutes, 53.23 seconds, nearly two seconds ahead of second-place Australia. Russia finished third, claiming the bronze medal.
Nationals place Ohlendorf on disabled list
Washington Nationals right-hander Ross Ohlendorf was placed on the disabled list Sunday with inflammation in his right shoulder. The Nationals recalled southpaw Xavier Cedeno from Triple-A Syracuse to give them an available arm in the bullpen.
Ohlendorf does not believe the issue is a major one and expects to be ready to return to the active roster as soon as he is eligible on Aug. 16. His stint on the disabled list retroactively began Aug. 1.
On June 12, Ohlendorf was called up from Triple-A to start for the Nationals in Colorado. In 10 games since, including an additional start, he has posted a 1.85 ERA and been a great addition to their bullpen.
Ohlendorf has undergone various strength tests since July 31, and has passed them all, giving him reason to believe that the issue is only inflammation.