A-Rod Strikes Out: Slugger Gets 211-Game Ban
Nats Pitcher Avoids Suspension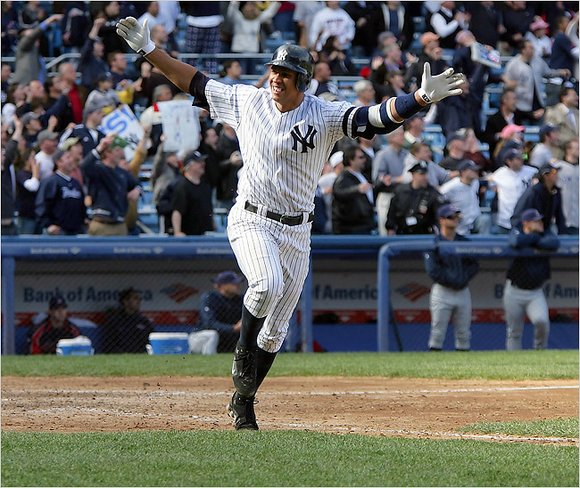 A-Rod is a goner.
New York Yankees third baseman Alex Rodriguez, better known as A-Rod, received a 211-game suspension for multiple violations of the sport's drug policy. The steroid-stained slugger said he's going to fight the unprecedented suspension, handed down by baseball's commissioner on Monday, Aug. 5.
The suspension is scheduled to begin on Thursday, Aug. 8.
"The only question now is when will Major League Baseball drop the hammer on the rest of the cheaters and how hard will [it] hit them," asked Northeast resident and Nationals' blogger Farid Rushdi.
Major League Baseball (MLB) officials quickly pointed out that while 12 other players were suspended for 50 to 65 games, evidence against A-Rod showed behavior many deemed to be severely damaging to the sport.
"The suspension is based on A-Rod's use and possession of numerous forms of prohibited performance-enhancing substances, including testosterone and human growth hormone, over the course of multiple years and he engaged in a course of conduct intended to obstruct and frustrate an investigation by MLB," said MLB Commissioner Bud Selig, 79.
Since suspended players aren't paid, A-Rod stands to lose between $34 million and $100 million, making it by far the costliest suspension in MLB history.
Previously, the longest penalty served had been the 100-game suspension of San Francisco Giants pitcher Guillermo Mota in 2012, costing him more than $2 million.

Detroit's Jhonny Peralta, Texas' Nelson Cruz, and Seattle's Jesus Montero, each count among the big names smacked with 50-game bans.
Washington Nationals star lefty Gio Gonzalez and Baltimore Orioles infielder Danny Valencia were cleared by MLB of any wrongdoing, Selig said.
For the slumping Nats, the news resulted in a huge sigh of relief.
"I'm happy for Gio because his situation is different than A-Rod's. A-Rod doesn't deserve any money. In fact, he should refund the Yankees and all of the teams who have ever paid him a dime," said Northeast resident, Blake Artest, 44, a former vendor at RFK Stadium in Southeast.
MLB's investigators spent a year establishing a case that proved numerous players visited Biogenesis, a Florida anti-aging clinic owned by Anthony Bosch, for performance-enhancing drugs. Bosch, 49, cooperated with the league after baseball sued him.
MLB gathered evidence which officials believe proved A-Rod violated the game's drug policy in 2010, 2011 and 2012 – each instance counted as a 50-game ban. League officials also believe A-Rod violated the "just cause" provision of the collective bargaining agreement between MLB and its union by obstructing Selig's investigation.
It's alleged that A-Rod lied to officials about doping, adding another 50-plus games to the suspension.
Further, MLB has shared evidence with the defiant slugger and the player's union that include hundreds of emails, text messages and phone records detailing A-Rod's dealings with Bosch, as well as a person who allegedly witnessed Bosch inject the beleaguered active home run leader with performance enhancing drugs.
Also, A-Rod received treatment from Anthony Galea, a Toronto physician, who two years ago pled guilty in Federal District Court in Buffalo, N.Y., to charges of bringing illegal drugs, including human growth hormone, into the United States to treat star athletes.