'2 Guns' Blazes into D.C.
Denzel Washington's Latest Flick Hits Area Theaters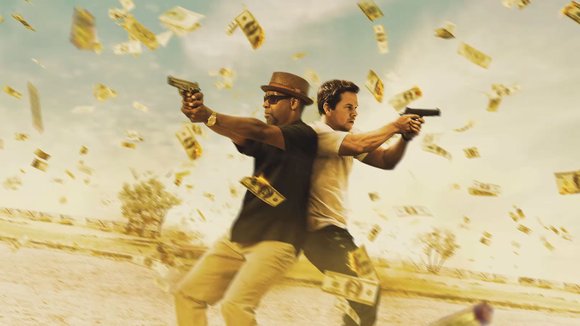 Looking to do something he said was fun and comedic, Academy Award winner Denzel Washington has teamed with his friend Mark Wahlberg in the latest summer blockbuster, "2 Guns."
Directed by Baltasar KormÃkur, the action thriller, features two undercover agents with separate agendas, ulterior motives and conflicted loyalties.
"I was looking to do something to have more fun, so when I read the script and heard that Mark was involved I was like, 'Oh, I could be safe because Mark is not just funny, he has a warmth and heart about him,'" Washington, 58, told reporters prior to the film's Friday, Aug. 2 release.
"We're buddies. It's a buddy movie, so it was a chance to do that and to have fun."
The film debuted locally this week at the Regal Gallery Place Stadium 14 on Seventh Street and the AMC Mazza Gallerie on Wisconsin Avenue, both located in Northwest. The movie is also scheduled to run in several theaters throughout Northern Virginia and Southern Maryland.
An international release has been scheduled in the United Kingdom on Friday, Aug. 16.
Washington, who won the Oscar for Best Actor in 2001 for his role as rogue cop, Alonzo Harris in the movie, "Training Day," was born on Dec. 28, 1954 in Mount Vernon, N.Y.
The aspiring news reporter, enrolled at Fordham University in New York but changed course when he caught the acting bug. After graduating, Washington moved to California and enrolled in the American Conservatory Theater in San Francisco.
His big screen debut occurred 1981 with the film, "Carbon Copy" starring George Segal. Washington went onto star in NBC's television drama, "St. Elsewhere," before earning an Academy Award nomination for his portrayal of, "Tripp," the runaway slave in Edward Zwick's 1988 film, "Glory."
His work in films such as "The Pelican Brief," and "Philadelphia," in 1993, firmly established Washington as one of Hollywood's top box office draws.
He has starred in many other critically-acclaimed films, including 1992's "Malcolm X," 1999's, "The Hurricane," 2004's, "Man on Fire," and "The Safe House," a 2012 blockbuster.
Until now, Washington had shunned comedy.
The highly anticipated "2 Guns" marks the first time Washington and Wahlberg share the big screen together.
"They emit an easy rapport, like Paul Newman and Robert Redford in 'Butch Cassidy and the Sundance Kid,' and Mel Gibson and Danny Glover in the 'Lethal Weapon' films," said Patricia Reaney, a movie critic for Reuters news service in Northwest.
Entertainment Weekly's critic, Chris Nashawaty, said the film is a summer-time gem that he seemed surprised by and one that he enjoyed.
"All I will say is that after months of big-screen bloat and bombast, '2 Guns' is a much-needed reminder that the best summer surprises can come when you least expect them," Nashawaty said.
The film tracks the lives of two operatives from competing law enforcement bureaus. They're forced to depend upon one another, but, there's a big problem with their unexpected partnership. Neither knows that the other is an undercover federal agent. Each distrusts his partner as much as the criminals they've been tasked to take down.
When their attempt to infiltrate a Mexican drug cartel and recover millions of dollars goes haywire, they're suddenly disavowed by their respective superiors and everyone wants them dead or in jail.
"It's about two guys. Usually, they'll take the comedy guy, the really out there comedy guy, and the straight guy and put them together," said Wahlberg, 42.
"We didn't want to do that. I felt like you had to have two really formidable opponents and to earn that camaraderie and to earn that trust in one another. That was really the movie."