ACA 101: Books to Aid Understanding
8/7/2013, noon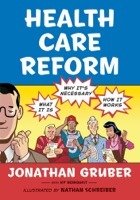 Health Care Reform: What It Is, Why It's Necessary, How It Works
Jonathan Gruber
You won't have to worry about going broke if you get sick.
We will start to bring the costs of health care under control. And we will do all this while reducing the federal deficit. That is the promise of the Affordable Care Act. But from the moment President Obama signed the bill into law in 2010, a steady and mounting avalanche of misinformation about the ACA has left a majority of Americans confused about what it is, why it's necessary, and how it works. "Health Care Reform: What It is, Why It's Necessary, How It Works," offers critical insight. From how to tame the twin threats of rising costs and the increasing number of uninsured to why an insurance mandate is good for your health, Health Care Reform dispels false fears by arming you with facts.
ObamaCare Survival Guide
Nick J. Tate
When President Barack Obama signed the Patient Protection and Affordable Care Act, he handed Americans one of the most sweeping pieces of social legislation in U.S. history.
Now that the Supreme Court has upheld ObamaCare, it is imperative that the American people understand the overwhelming impact it will have on their lives. The Affordable Care Act totals more than 2,700 pages and comprises nearly 500 provisions. The ObamaCare Survival Guide: The Affordable Care Act and What It Means for You and Your Healthcare is the first guide book to help Americans understand the intricacies of ObamaCare. It serves as a valuable resource for those currently insured, those who are not, and the tens of millions of seniors, youth, business people and others who will be affected by the new law. This guide includes citizen responsibilities and penalties under the new laws, how to maximize your healthcare dollar on the new plan, the cost to consumers, and much, much more.
Author Nicholas J. Tate, an award-winning journalist and editor, has written extensively about health and consumer affairs issues. A must read for anyone who is worried about getting good healthcare for themselves or their employees.
Medicare and the Patient Protection and Affordable Care Act
Paul L. Schmidt
On March 30, 2010, the President signed the Health Care and Education Reconciliation Act, which modifies a number of Medicare provision in PPACA and adds several new provisions.
This new and important book examines the Medicare related provisions in these Acts. Estimates from CBO and PPACA and the Reconciliation Act indicate that net reductions in Medicare direct spending will reach approximately $390 billion from 2010 to 2019.
African American Women's Life Issues Today
Catherine Fisher Collins, Editor; Foreword by Julianne Malveaux
After decades of research devoted to women's health, a federal agency focused on women's health, and millions of dollars allocated to address women's health disparities, African American women are still the sickest American citizens. This book examines why.
Written by an all-female, all-African American team of health experts that include nurse practitioners, registered nurses, educators, and psychologists, this book focuses on the diseases and related social issues that cause the greatest harm and pose the greatest threat to African American women today. Its chapters address topics as varied as heart disease, cancer, sexually transmitted diseases, domestic violence, cervical and breast cancers, obesity, depression, mental illness, dementia /Alzheimer's, and incarcerated women's health care. A chapter is dedicated to identifying the social, cultural, and environmental barriers that block African American women from experiencing the best possible lives.
Providing comprehensive coverage of the topic from an Afrocentric perspective, this text will be of great interest to medical and psychological health professionals and professors; social workers, counselors, and students in these fields; as well as African American women seeking current and expert information on these health threats.