The ACA Difference: Providing Quality, Affordable Health Care for All Children
Ronda Smith, Special to The Informer | 8/7/2013, noon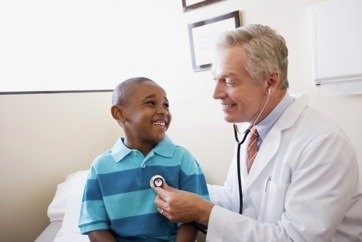 Rodney and Sabrina Daley were living the American dream. With high-power, high-paying corporate positions and all of the trappings of upper-middle class living, the Daley's felt financially untouchable. Little did they know that an unforeseen illness with one of their three children and the subsequent insurance policy cancellation, would lead to near financial ruin.

Rodney Daley, 43, said that despite taking little stock in President Obama's Affordable Care Act initially, the new regulations would allow treatment for his son Miles to continue.

"Miles' condition was diagnosed late, but ironically considered a pre-existing condition. As a result, not only were we dropped by the insurance company, but we were then told that because of his condition, we could not get coverage for less than $400 per month. The total per check deduction from my paycheck for my whole family's coverage was a little more than that amount. How do you tell a ten-year-old that because of his illness we have to move to a smaller home? You don't – you just make it work," Daley said.
The Daley's circumstances are all too common. Between 2007 and 2009, and estimated five million Americans lost employer-sponsored health insurance. The percentage of non-elderly Americans with employer-sponsored insurance dropped from 68 percent in 2000 to 59 percent in 2009.3 The percentage of small businesses that offer coverage to their employees dropped from 68 percent in 2001 to 59 percent in 2009 — although rose in 2010, in part, due to the Affordable Care Act's small business tax credits.
With the passage of the Affordable Care Act insurers would be unable to exclude children from needed coverage or care by extending the Children's Health Insurance Program.
ACA also:
Extends federal funding for the Children's Health Insurance Program (CHIP) through September 30, 2015, and provides states with additional funding to ensure children have access to this proven successful program. Increases outreach and enrollment grants to help reach more eligible children.
Pediatric Benefit Package Includes Oral and Vision Coverage for all Children
Requires coverage of not only basic pediatric services under all new health plans, but also oral and vision needs, starting in 2014. Many health plans do not provide coverage for needed child health services, and 12 percent of children have not had a doctor's visit in the past year.
More Pediatric Providers Where Kids Need Them
Expands the health care workforce – including pediatricians, pediatric nurse practitioners, specialists in pediatrics, and pediatric oral health professionals – to ensure that children will have access to high quality health care. This year, requires that parents enrolled in new plans be allowed to select their child's pediatrician from among any participating provider.
Improve Quality of Care for Children
Develops children's quality priorities and promote children's quality measurement and reporting to improve the care that our nation's children receive. A recent study found that children receive recommended care less than half of the time; and
Makes mandatory the current state option to extend Medicaid coverage up to age 26 to foster children who have aged out of the foster care system, effective 2014.