The Affordable Care Act Timeline
8/7/2013, noon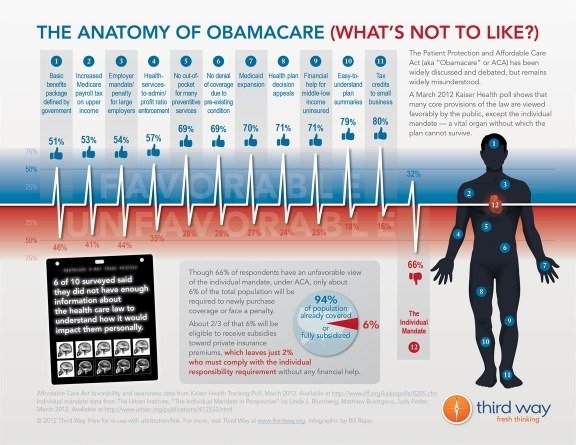 The Affordable Care Act (ACA) was a historic milestone in our fight for a more equitable and cost-effective health care system. The law already is helping families, and more help is on the way. Here is a timeline of changes under the law.
March 2010
Barred insurance companies from refusing to cover children with pre-existing conditions and from dropping coverage for people who get sick and placing lifetime limits on coverage. It also allowed children to stay on their parents' policies until age 26.
In 2010
Placed new rules on premium increases and gave consumer new rights to appeal insurance company decisions.
In 2011
Required insurance companies to spend 80 percent to 85 percent of premiums on medical care; provided free preventive care under Medicare and half-priced brand-name prescription drugs for seniors in the Medicare "donut hole;" provided grants for employee wellness programs and help for employers offering coverage for early retirees.
Jan. 1, 2012
Accountable Care Organizations: The new law provides incentives for physicians to join together to form "Accountable Care Organizations." In these groups, doctors can better coordinate patient care and improve the quality, help prevent disease and illness and reduce unnecessary hospital admissions. Learn more about Accountable Care Organizations.
March 2012
Addressing Health Disparities: Health programs must report racial, ethnic and language data to help identify and reduce disparities. Learn more about health disparities and the Affordable Care Act.
Oct. 1, 2012
Electronic Recordkeeping: To reduce paperwork, costs and medical errors, billing will be standardized and health plans will begin adopting rules for the secure electronic exchange of health information. Learn how the law improves the health care system for providers, professionals, and patients.
Value-Based Purchasing: This program offers financial incentives to hospitals to improve the quality of care.
Jan. 1, 2013
Preventive Health Care: To expand preventive care, the law provides new funding to state Medicaid programs that choose to cover preventive services for patients at little or no cost.
Increasing Medicaid Payments: As Medicaid programs and providers prepare to cover more patients in 2014, the act requires states to pay primary care physicians at least the full Medicare payment rates for primary care services. Learn how the law supports and strengthens primary care providers.
'Bundling' Payments: A national pilot program paying providers flat fees for an episode of care will attempt to encourage hospitals, doctors and other providers to work together to improve the coordination and quality of patient care and reduce costs.
Oct. 1, 2013
Children's Health: Under the new law, states will receive two more years of funding to continue coverage for children not eligible for Medicaid. Learn more about CHIP.
Jan. 1, 2014
Affordable Insurance Exchanges: Starting in 2014, if your employer doesn't offer insurance, you will be able to buy it directly in an Affordable Insurance Exchange. An exchange is a new insurance marketplace where individuals and small businesses can buy health plans that meet benefits and cost standards. Members of Congress will be getting their health care insurance through exchanges, too. Learn more about Affordable Insurance Exchanges.