The Affordable Care Act Timeline
8/7/2013, noon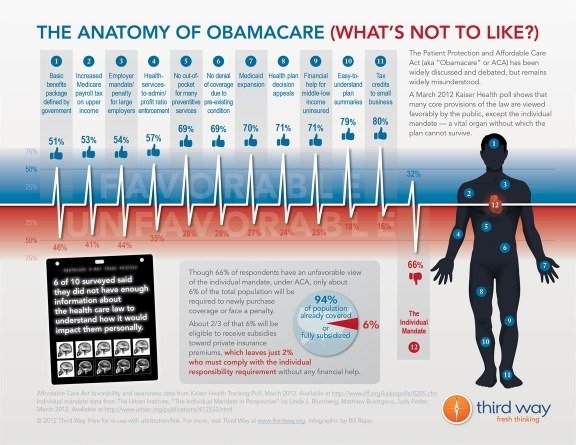 Individual Responsibility: Most people who can afford it will be required to obtain basic health insurance coverage or pay a fee to help offset the costs of caring for the uninsured Americans. Learn more about individual responsibility and the law.
Choice of Coverage: Some workers who can't afford their employer's coverage will get help buying coverage through the exchanges.
Expanding Access to Medicaid: Low-income individuals and families will be eligible to enroll in Medicaid and states choosing to adopt the expansion will get federal financing to cover almost all the costs of coverage for newly eligible individuals and families. Learn more about Medicaid.
Making Coverage Affordable: Tax credits will help the middle class afford insurance if they are not eligible for other affordable coverage. People may also qualify for reduced cost-sharing. Learn how the law will make care more affordable in 2014.
Ending Annual Coverage Limits: The law prohibits new plans and existing group plans from imposing annual dollar limits on coverage. Learn how the law will phase out annual limits by 2014.
Ending Discrimination: Insurance companies will be prohibited from refusing to sell or renew coverage because of pre-existing conditions, and from charging more because of gender or health status. Learn more about protecting Americans with pre-existing conditions.
Increasing Small Business Tax Credit: The small business tax credit is raised and there is also a % credit for small nonprofit organizations. Learn more about the small business tax credit.
Jan. 1, 2015
Tying Payments to Value: Physician payments will be tied to the quality of care they provide.
Sources: 2011 AFL-CIO Legislative Guide; health.gov