DNC Launches Voting Rights Website
WI Web Staff | 8/7/2013, 10:37 a.m.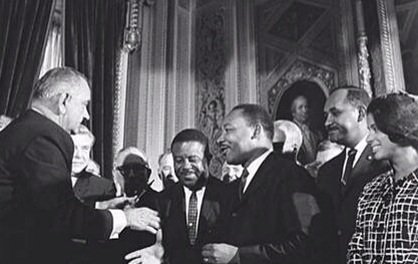 To mark the 48th anniversary of the signing of the Voting Rights Act of 1965, Democrats have launched a new microsite that tells the story of the fight for voting rights.
The timeline of the website, votingrightsmatter.com, begins with the Civil War, Reconstruction and the 15th amendment, then continues to women's suffrage, the civil rights movement up to the Supreme Court's recent decision to rule parts of the Voting Rights Act unconstitutional.
While the Act was a major step forward in protecting and expanding access to the ballot, the Supreme Court's decision opened the door for Republican state legislatures to pass potentially obstructive legislation. Only one month after the county's ruling, eleven Republican-controlled states have taken steps to make it harder to cast a vote.
President Obama, Democratic lawmakers and Democratic governors are working to combat these actions and fight restrictive laws.
The timeline on the new website finishes with an opportunity to sign up to join the fight to protect voting rights.