EDITORIAL: The March on Washington, 50 Years Later
8/7/2013, 3 p.m.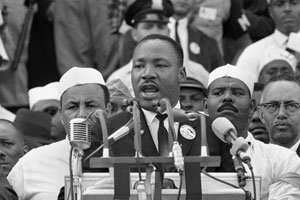 In a little more than two weeks, Washington will be ground zero as the nation celebrates the 50th anniversary of the March on Washington for Jobs and Freedom. It is an opportunity for all of us who are beneficiaries of what the civil rights movement accomplished to give the appropriate honors to those who made the sacrifice.
We hope that on Saturday, Aug. 24, the Mall will be overflowing with men, women and children of every color, stripe, ethnicity and creed. And if the March's organizers have anything to say about who's there, District residents will be coming out in force.
Their presence will rectify what happened in 1963 when D.C. residents were warned by the federal commissioners who ran the city not to be a part of the march. Why? Because the commissioners regarded the Rev. Dr. Martin Luther King, Jr., Bayard Rustin and other organizers as rabble rousers and troublemakers who were up to no good.
That caution meant that significant numbers of Washingtonians stayed home but history has proven the commissioners wrong and so 50 years later, D.C. residents' presence on the Mall will reaffirm their desire to stand shoulder-to-shoulder with others who envision a better, more just and equitable world.
As we celebrate, this day presents yet another opportunity for African Americans to check where we are and how far we've come.
These are challenging days because there are forces out there bent on turning back the clock. While they may not want to see black and colored only signs, separate water fountains and facilities and the more overt indications of segregation and discrimination, there are some who stay up nights devising ways to block, bind, curtail and obstruct any progress that we've made.
So while this 50th anniversary should be one filled with elation and celebration, it is, instead, leavened by some of the harsh realities that we face.
For those of us who were sleeping, the Trayvon Martin verdict, the Supreme Court's decision to strike down Section 4 of the Voting Rights Act, electoral manipulation, and all the other recent developments are a sobering reminder that we have to stay vigilant to protect our hard-earned gains.
One of the most promising developments coming out of the Zimmerman verdict and other challenges thrust on black people is that the sleeping giant that is the African-American community has been awakened. All over this country, people are meeting, talking, sharing, devising, strategizing on how best to confront and eventually defeat racism and discrimination.
Now, it seems, is the perfect time to begin reimagining a new civil rights movement.