EDUCATION BRIEFS: Hundreds of Teachers Attend DCPS Job Fair
8/7/2013, 3 p.m.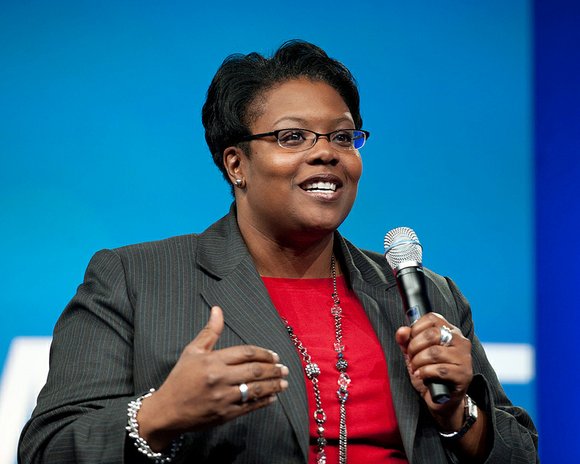 District of Columbia Public Schools
During their job fair in late July at Woodrow Wilson Senior High School in Northwest, District of Columbia Public Schools (DCPS) officials reported having received responses from 400 teachers, saying they would be attending.
Many of the teachers were among faculty members who were displaced as a result of the decision Chancellor Kaya Henderson, 43, made in January, in which 15 schools were targeted for shuttering or to merge with high-performing charters schools. When the 2012-13 academic year ended in June, teachers impacted by the mandate had 60 days to find another position, or if eligible, they could choose early retirement or a $25,000 buyout.
Candi Peterson is the newly-elected general vice president of the Washington Teachers' Union. She and Elizabeth Davis, president of the 4,000-member organization based in Northwest, officially assumed their posts on Aug. 1.
According to a statement from Peterson, while the lines for on-site interviews with school principals from 33 schools were long, teachers held out hope with stacks of resumes in hand. Peterson also stated in her blog, "The Washington Teacher," that "despite DCPS's requirement that instructional applicants be provided a minimum of five interviews, many of the teachers complained of not being able to find a principal interested in hiring them."
Meanwhile, new DCPS teachers are slated for orientation Aug. 14-15 at the Columbia Heights Education Campus in Northwest. Among some of the workshops they will be attending are an overview of the IMPACT Evaluation System, summary of professional development opportunities and discussion panels led by veteran teachers.
Otherwise, all DCPS teachers return to the classroom on Aug. 19 – a week before students resume their studies.
Prince George's County Public Schools
Students enrolled in the Prince George's County Public Schools (PGCPS) system begin classes on Monday, Aug. 19, and County Executive Rushern Baker III, 54, strongly encourages parents and guardians to ensure their children are properly vaccinated.
In recently taking to his Facebook page to stress the importance of the vaccinations, Baker posted a statement from the 124,000-student school system, which notes that all PGCPS students enrolled in kindergarten through grade 12 must have received two Mumps and Rubella vaccines prior to the first day of school. Students without appropriate documentation on Aug. 19 will have 20 calendar days to comply.
"Mumps and Rubella are serious diseases," the statement reads. "Mumps can cause deafness and meningitis (an infection of the brain and spinal cord). Rubella (also known as German Measles), if contracted while pregnant, can lead to a miscarriage or serious birth defects. In addition, both Mumps and Rubella are airborne diseases that can easily be contracted by simply being near someone who already is infected."

Baker went on to note that proof of immunization can be done by submitting an updated immunization form or in a note to the school from the child's doctor on their letterhead. Also, some health insurance plans offer an electronic copy of the immunization form that can be submitted to school staff.