Furloughed Government Employees Distressed
Angry over Lost Pay, Many Face Hardships, other Difficulties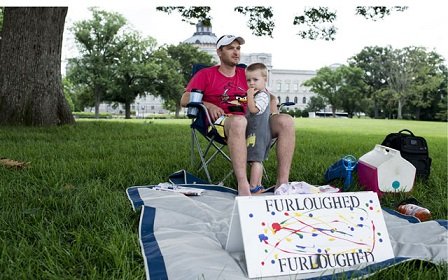 On a routine slow mid-summer morning at the Internal Revenue Service in Northwest, a citizen waited about 31 minutes before a tax worker answered the telephone. Across town at the Housing and Urban Development office in Northeast, a caller met a similar fate – a worker promptly greeted him, but placed the caller on hold for more than 28 minutes.
Like federal agencies around the District and the nation, it's become a whole lot tougher to do business, particularly on days when hundreds of thousands of workers are on unpaid furloughs that have forced the Internal Revenue Service (IRS), the Department of Housing and Urban Development (HUD) and others to drastically scale back operations.
"There's nothing we can do about this at all, just comply," said Richard Williams, a HUD employee and Laurel, Md. resident.
"We are missing a part of our paycheck and that one day means a lot. It means making decisions like driving or taking the Metro or even something like buying no frills products as opposed to a brand name when we have to go to the supermarket," said Williams, 37.
The furloughs are part of mandatory spending cuts that went into effect this year when Congress couldn't reach a compromise on government spending.
The cuts resulted in most federal agencies furloughing employees, a move that reduced salaries and one that's projected to help save the U.S. government billions, if not trillions, of dollars.
Despite the furloughs, the District of Columbia has escaped severe financial hardship, according to Reuters news service.
Officials at Moody's Investors Service in New York, which ranks the creditworthiness of municipal and government borrowers, said on July 31, that it had revised its outlook for Washington, D.C., to stable from negative. Fears that federal spending cuts would damage the economy of the nation's capital have not been realized, Moody's officials said.
"Federal budget cuts that began to be implemented this spring have had a moderate impact on the local economy, and in our opinion, over the outlook horizon that impact will not be as severe as it seemed when the negative outlook was assigned," Michel Madelain, the president and CEO of Moody's said in a statement.
Under a budget deal between President Barack Obama, the U.S. government must cut $1.2 trillion in spending over 10 years. When they forged the agreement in 2011, Moody's lowered its outlook for the District of Columbia, given that the federal government represents its main source of employment.
However, the cuts, which began in March, have proven less detrimental locally than many anticipated, especially as the private sector in the region has added jobs, according to Reuters, which noted that the number of jobs in the District, and held by residents and commuters alike, peaked at 736,400 in October 2012 and dropped to 733,800 in May.
The number of District residents with a job peaked in March at 341,229, and then dropped 0.2 percent by May.
Federal government employment in the District fell 2 percent in May from a year earlier, while the private sector realized a 1.4 percent increase.