Helen Thomas Inspired Generation of Journalists
Natasha Dado, Special to The Informer from New America Media | 8/7/2013, 3 p.m.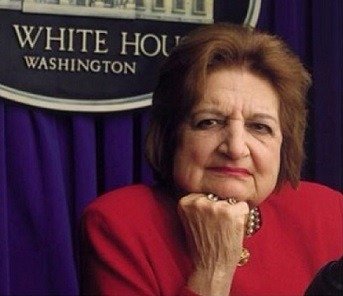 Legendary White House correspondent Helen Thomas passed away peacefully on July 20 at her Washington D.C. apartment, while surrounded by family and friends. She was 92.
Still, Thomas will always live in the work of others she inspired.
"I will always carry a piece of her in how I approach things. She was an inspiration to who I am," said Siham Awada Jaafar, a television host and producer for WDHT TV in Michigan.
Speaking to The Arab American News, Thomas' niece, Suzanne Geha, says that it was her iconic aunt who inspired her to go into broadcast journalism. A few of Thomas' other nieces and nephews who she had influence over, and some of their children have also pursued careers in the profession as well.
Thomas, a Lebanese American, emerged as one of the most prominent White House reporters, during a time when the profession was dominated by men. Generations of women in the profession have been influenced by her work.
"Helen Thomas began her career in the 1940s, as a young woman, working in a man's business and overcoming many institutional barriers that kept women from gaining equal access. Through her tenacity, integrity and willingness to follow-up any lead and work any hour of the day or night, she reached the pinnacle of her profession and paved the way for generations of women to follow," a statement released by Thomas' family, following her passing, read.
"Aunt Helen was our mentor," Geha said. She said Thomas had spoken to her about how hard it was for her to break into the profession when she first started and prove that a woman could do the same job as a man.
Thomas covered 11 presidents from Dwight Eisenhower to Barack Obama for the United Press International and Hearst Newspapers. She wrote five books and was the first female member of the National Press Club, White House Correspondents' Association and the Gridiron Club, which announced her death.
Thomas' ability to vigorously question U.S. presidents and other high-powered officials are what made her stand out. She never shied away from asking the tough questions, or expressing unpopular views.
She made it clear at White House press conferences that she opposed the Iraq war, while other journalists across the country were being criticized for not asking enough hard questions about the 2003 U.S.-led invasion.
Thomas traditionally sat at the front of presidential news conferences, but during the Bush Administration she was moved to the back row. When she was once asked why she was seated in the back row, she responded, "They didn't like me, I ask too mean questions." As a senior correspondent at the White House, Thomas ended dozens of presidential news conferences with her famous phrase, "Thank you, Mr. President."
Thomas devoted her nearly 70-year career in journalism to the pursuit of the public's "right to know." She was a champion of the First Amendment, fervently advocating for freedom of speech and freedom of the press.
For years, she proudly occupied her front row seat in the Press Briefing Room at the White House, considering it the people's chair in the people's house.