Helen Thomas Inspired Generation of Journalists
Natasha Dado, Special to The Informer from New America Media | 8/7/2013, 3 p.m.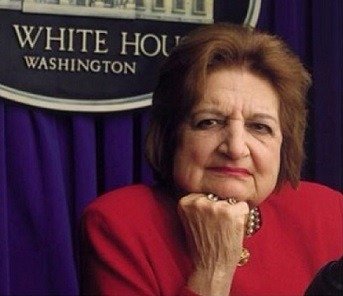 Geha says that Thomas felt it was her responsibility to get answers for the public from people it didn't have access to.
The statement released by Thomas' family went on to say that she always acknowledged the privilege of being the eyes and ears of the public, and she boldly and unabashedly asked the hard questions to hold our leaders accountable.
Arab American Community Defends Thomas
In 2010, Thomas retired from Hearst Newspapers after making controversial remarks about Israel, Jews and Palestine. Although she apologized afterwards, efforts were made to get a statue of Thomas removed from the Arab American National Museum in Dearborn, but were not successful.
She later made additional remarks that caused more controversy, while speaking at a workshop on anti-Arab bias in Dearborn at Byblos Banquet Hall, when she said, "Congress, the White House, Hollywood and Wall Street are owned by Zionists. No question in my opinion..."
The day after, her alma mater, Wayne State University (WSU), revoked the "Helen Thomas Spirit of Diversity Award" and, later, the Society of Professional Journalists (SPJ) also removed the "Helen Thomas Award for Lifetime Achievement."
Osama Siblani, publisher of The Arab American News, is the recipient of the "Helen Thomas Spirit of Diversity Award" and a member of the Congress of Arab American Organizations (CAAO). After WSU removed the award, members of CAAO met with officials from WSU to discuss its decision.
CAAO cautioned that if the decision was not properly addressed and corrected, it would negatively impact relations between the university and the Arab American community for many years.
The decisions resulted in a major backlash from groups and individuals across the country, who called on SPJ and WSU to reinstate both awards, saying the decisions were an attack on free speech and undermined the principals of journalism. Several organizations, including youth groups, held protests to put pressure on the university and SPJ to reverse their decisions.
Jaafar says she spoke to Thomas after the awards were revoked. "She always said, 'No one can take anything away from you, as long as you stand on solid ground and maintain your integrity."'
Still, even after she was forced to resign, and her awards were removed, the brave and outspoken Thomas would continue fighting for what she believed in. She remained true to herself until the end. During an event at the Palestine Cultural Office in May 2011, where Thomas was presented with the "Relentless Courage Award" for her audacity to speak truth to power, she delivered a speech in support of Palestinian rights, while wearing a bracelet that read "Palestine."
At the event, when asked by The Arab American News whether she would take back her remarks about Israel, she said, "Never. I spoke the truth. I don't believe in human tyranny, which is what is happening in Palestine."
When TAAN asked Thomas whether she was bothered about not being at the annual WSU Spirit of Diversity Awards Ceremony, which was being held on the same day, she said, "I'm not bothered. They should be bothered. They denied Americans freedom of speech, and that is shameful for any university."