Kia Optima's Evocative Styling Draws in New Buyers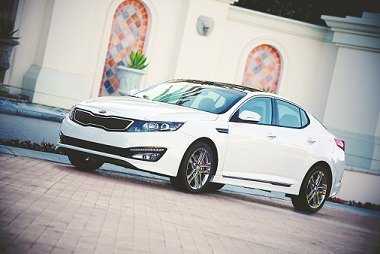 With all of the new cars rolling out of American showrooms this summer, the midsize sedan stands out as the overall value leader. Whether a buyer's primary concern is safety, fuel economy, style, comfort, or lots of features, any of the mainstream sales leaders – Toyota Camry, Honda Accord, Nissan Altima, Ford Fusion, Chevrolet Malibu or Volkswagen Passat – will have something to offer even the most discriminating buyer.
However, if you are the underdog manufacturer, such as Korean carmaker Kia, you are only guaranteed survival if you play smart offense by offering sleeker designs, luxury-car features and better gas mileage before the establishment gets the inkling that you may harbor any ambitions. You also aim your appeal to a broader audience, from young families to downsizing baby boomers to people who want the look and feel of luxury but don't want the cost.
After driving this week's test car, the Kia Optima, I can attest to why Kia is not only surviving but prospering in the recession-scarred, hypercompetitive U.S. market. The Optima's combination of style and value, which includes an outstanding powertrain and otherwise general competence, have put the established segment players on notice and propelled the midsize car to new heights as Kia's sales leader.
The Optima is gorgeously styled. With its subtle wedge shape, its clean and discreet application of the corporate "tiger-nose" grille, and excellently executed interior, this Kia stands out in a parking lot dominated by vanilla Camrys and Accords. Many Optima owners will tell you that onlookers are often puzzled the first time they see one. The car's design draws onlookers in and one is likely to draw double-takes and looks of confusion when they realize they have been staring at a Kia.
The Optima is also one of the best deals in its class, starting from $21,350, for a decently-equipped version. It has been rated second-cheapest among comparably-equipped models, trailing only the badly aged Avenger from Chrysler-Dodge.
For a model equipped with power-operated leather seats, a heated steering wheel, heated and cooled front seats, heated rear seats, and a panoramic sunroof, a buyer can take home an Optima for under $28,000. We drove the SX Limited equipped with a very responsive 2-liter, direct-injection turbo 4-cylinder rated at 274 horsepower.
Matched with a 6-speed Sportmatic transmission, the SX Limited is one of the quickest mid-sized cars yet it returns 22-34 mpg on regular-grade fuel. I averaged 25 mpg in mostly city and suburban driving in Virginia and the District. My best – 28 mpg – was a roundtrip hop to BWI-Marshall airport from the District.
While the top-of-the-line SX Limited presents the most luxurious Optima, I suspect many buyers will shy away from the "un-Kia like" pricing, the Achilles heel for the model. The real bargains are at the lower trims. Our test car came with a rather hefty price tag – $35,370 to be precise. While Kia piles the options galore – upgraded Nappa leather seat trim, soft black cloth on the roofliner and door pillars, false wood trim on the dash and steering wheel, an electronic parking brake, LED running lights, and unique chrome-finished alloy wheels with red-painted brake calipers – my take is these additions do not exponentially improve the car to what buyers expect at that entry level luxury price.