New WTU Leaders Poised to Fight for Students
Margaret Summers | 8/7/2013, noon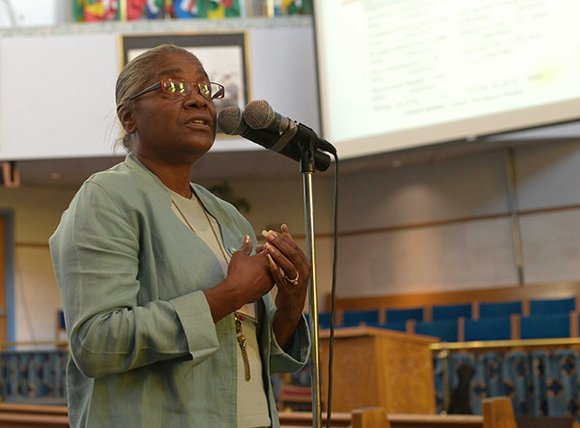 Against the backdrop of District public and charter school students' higher than ever scores on this year's D.C. Comprehensive Assessment System (DC CAS) reading and math tests, and a challenge to the authenticity of recent District teachers union election results, newly-elected Washington Teachers' Union (WTU) President Elizabeth "Liz" Davis and General Vice President Candi Peterson hosted a "Listening Post" to assist their transformation of the union.
The event, held July 30 at Union Temple Baptist Church on W Street Southeast, was one of a series of four "Listening Posts" scheduled throughout the city in which teachers, parents, and others discussed Davis' and Peterson's platform issues on which they ran for office. The discussions help Davis and Peterson determine the platform planks which will become their top union priorities.
"We need allies throughout this city," Davis, 62, told the church audience of approximately 25, most of whom were teachers. Community coalition building is one of the planks in the Davis-Peterson platform. "To bring together all of the organizations who care about education under one umbrella with the union is exciting to me."
Former WTU President Nathan Saunders, who lost to Davis 459 to 380 in a July 1 runoff election, appealed the results, saying that the union sent ballots to 350 retired teachers on or before June 30, making their votes ineligible. Saunders also claimed that ballots were wrongly sent to 54 teachers fired in June, and to 89 teachers laid off due to budget cuts. In the appeal, Saunders said he should remain in office until December 2013 because under union rules, the president's three-year term begins on July 1. Saunders' term was delayed until December 2010 because the WTU's then-president George Parker would not hold elections. Saunders withdrew his appeal, and Davis and Peterson were installed in their posts on August 1.
Peterson was previously elected as the union's general vice president under Saunders in 2010. He removed her without the required union recall procedure, she said. Peterson won a union arbitration in September 2011 but was not reinstated to serve out her original term.
"Your votes were stolen," Peterson told the church "Listening Post" participants. "I became very demoralized. The lesson of my story is, don't give up, get back up. The race is not won by the swift but by those who persevere. I believe in the god of second chances."
Audience members expressed alarm over school closings, consolidations and "reconstitutions" resulting in hundreds of jobless teachers who are "excessed" or given 60 days to find work in other schools. They decried the proliferation of un-unionized charter schools, and the effect of the IMPACT teacher evaluation system, initiated by former D.C. Schools Chancellor Michelle Rhee, in reducing numbers of seasoned educators. They also denounced, as one audience member put it, management's "dangerous obsession with standardized testing" which, they said, discourages creative teaching.
Some noted with irony the District students' significantly improved DC CAS test scores, announced at a news event earlier that day by Mayor Vincent Gray. Historically, District teachers have been blamed for students' substandard academic performance. "If test scores have risen, why are 400 excessed teachers looking for work?" asked Peterson.