THE RELIGION CORNER: 'The Big Secret' About Domestic Violence — Pt. 4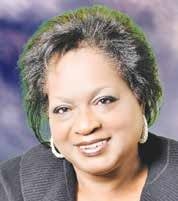 This week, a colleague suggested the story of Mildred Muhammad, the former wife of the D.C. sniper. She reveals the years of terror after her ex-husband John Muhammad threatened to kill her ... and how their children never had an opportunity to say goodbye to their father before his execution.
Mildred D. Muhammad is a domestic violence survivor with a story to tell the world. Many know her first and foremost because of her former husband, John Allen Muhammad – the convicted sniper who terrorized the Washington Metropolitan region in late 2002. After several years of silence, Mildred Muhammad speaks openly about her day-to-day experiences as a survivor of domestic violence and how it affected her three children.
 She has been interviewed by the following correspondents and has appeared on a host of talk shows that include: Anderson Cooper, Kyra Philips "Headline News ~ Raising America", Ricki Lake, Katie Couric, Jane Velez Mitchell "Headline News ~ Issues", The Huckabee Show, TruTV's ~ In Session, Larry King Live, The Tyra Banks Show, Good Morning America with Charlie Gibson, BET and others.
Married for 10 years, her husband returned from the Gulf War a changed man, Mildred Muhammad said. When she filed for divorce, he threatened to kill her and subsequently kidnapped their children. She lived in fear that he would inevitably shoot and kill her. John Muhammad went on a rampage in 2002, fatally wounding 10 persons – Mildred Muhammad said: "I was the person he was after."
She told Linda Warren, a columnist for Mail Online, how she spent years living in utter fear after he threatened to take her life.
She revealed how he threatened to hunt her down after their 2000 divorce, snatched her three children and took them to Antigua for two years before they were finally tracked down by the police.
Speaking with People magazine, Mildred Muhammad recounted how her husband left to serve in the Gulf War in 1990 and returned a changed man the following year.
Her caring husband had morphed into an emotionally abusive man and began "treating me like his enemy," she said. It prompted her to take out a restraining order against him and file for divorce.
He kidnapped their children, then six, eight and 10, in 2001 however, police located them when John Muhammad tried to obtain food stamps – but that didn't allay her fears.
"What most people don't know is that I was the person he was after," Mildred Muhammad told People. "Two years prior, he [had] threatened to kill me when I asked for a divorce."
"I didn't know where John was or what he was doing, but I looked for him on the rooftops and nearby levees. He told me he was going to kill me, and I knew he would."
Mildred Muhammad has written a book about domestic abuse and tours the country talking about her experiences – which she said are firmly in the past and no long haunt her.
"I'm so sorry that so many people were killed," she added. "It's not my fault. I was afraid of him like everyone else. I stopped being afraid, I guess, when they executed him on November 10, 2009."
Readers, this was a highly unusual case, but none of us will ever know when there's another person like John Muhammad on the loose. Just look at what an abusive temperament can do! Quit living in bondage and tell someone. Get help; call 911, it's for your safety and could possibly save the lives of others. It is not what the Lord intends for any of us.
My scripture for this column "Thou shall not kill." And ladies, please get out of those violent situations, the Lord loves you, now you need to love yourselves!
Lyndia Grant is an author, inspirational and motivational speaker, radio talk show host and columnist; if you would like Lyndia to serve as facilitator for your retreat or special event, call 202-518-3192. Tune in Fridays at 6 p.m., to the radio talk show, 1340 AM, WYCB, a Radio One Station.