Seniors Surveyed on Making D.C. Age-Friendly
Margaret Summers | 8/7/2013, 3 p.m.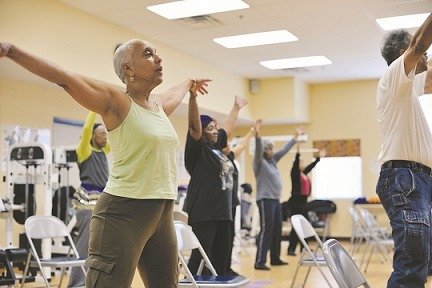 During the next several years, the United States and other countries will become more urban, and cities' senior populations will increase significantly. The World Health Organization (WHO) created its Global Network of Age-Friendly Cities and Communities to help cities prepare for these changes.
The WHO is the directing and coordinating authority for health within the United Nations. It's responsible for providing leadership on global health matters.
The District, along with seven U.S. pilot cities and counties, is part of the global effort to make urban areas more age-friendly.
"We sent a letter to Mayor Vincent Gray last year, inviting the District to participate in the Age-Friendly Cities initiative. He accepted our invitation on October 3, 2012," said Louis Davis, Jr., 49, state director of the AARP District of Columbia office (AARP-D.C.). The D.C. Council passed a resolution this year endorsing the District's participation. In support of the initiative, AARP-D.C. is conducting an online survey of local seniors which asks them how to make the District age-friendly.
According to the D.C. Office on Aging's Age-Friendly City Initiative web page, three out of every five people in the world will live in cities by 2030. The number of seniors around the world ages 60 and over will double from 11percent to 22 percent of the world's population by 2050. D.C. Office of Planning State Data Center figures show that 98,512 District residents are age 60 and older.
Along with the AARP-D.C. age-friendly city survey, "community consultations" or town meetings with seniors and other city residents convene in each District ward to solicit opinions. Social network sites Facebook and Twitter are also used to poll seniors. A postage-paid postcard questionnaire mailed to AARP-D.C.'s 87,512 members in 11 chapters, will ask how they feel about their neighborhoods, and whether they want to be more politically engaged in making the District age-friendly.
Davis said information from these sources will be submitted to the Mayor's Age-Friendly City Task Force, comprised of mayoral appointees. "This initiative is generally a five-year process," said Davis. "The first two years are spent researching and planning for the changes which will make the city age-friendly. Survey results and other data will form the basis of the task force action plan. The action plan is reviewed by the WHO and AARP-D.C., and is made available to the public in print and online." Ideally, the task force would issue a progress report at the conclusion of each year of the three-year action plan implementation period, said Davis.
A D.C. Office on Aging statement said Gray, 70, will announce members of the Age-Friendly City Task Force at a September event. Members will be experts in the eight areas that the WHO believes are essential for age-friendly cities: Outdoor Spaces and Buildings; Transportation; Housing; Social Participation; Civic Participation and Employment; Respect and Social Inclusion; Communication and Information; and Community Support and Health Services.
The AARP-D.C. seniors' survey, meanwhile, has been circulating for two months. "We have 195 survey responses so far, not enough to identify emerging trends," said Davis. Initial responses indicate that District seniors want more affordable housing; better lighting on city streets and entrances to buildings; opportunities for meaningful full- and part-time employment; easier on-street parking; better communication about available services from the District government; and improved public safety and police presence in neighborhoods.