Student Involvement in Civil Rights Focus of Newseum Exhibit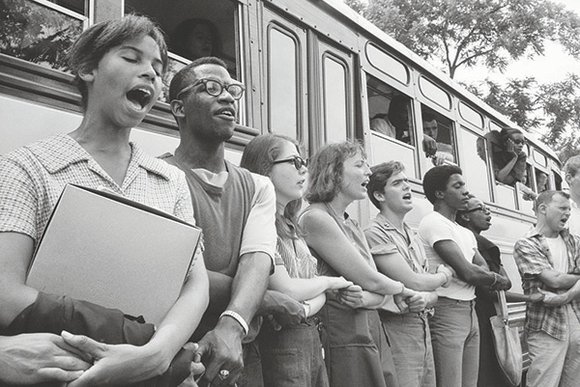 It would not be far-fetched to say that without the youth, vigor, energy and fearlessness of the young people who stood on the frontlines of the civil rights movement, it may have failed or achieved far less than it did.
But beginning in the mid-1950s, the student foot soldiers of the modern civil rights movement put their bodies and lives on the line to topple the hated institution of segregation and pulled the United States back from the racial abyss.
The year 1963 proved to be a seminal year for America and African Americans. On the civil rights calendar, it proved to be a crucial year in which those in the movement experienced heady victories, bruising setbacks and an assortment of challenges.
To commemorate this monumental year of struggle and change, the Newseum opened an exhibit on Aug. 2, 2013, on the eve of the 50th anniversary of the March on Washington. Entitled "Make Some Noise: Students and the Civil Rights Movement," the exhibit explores the new generation of student leaders in the early 1960s who battled segregation by exercising their First Amendment rights and who definitely made their voices heard.

"A lot of things happened in 1963," said Jonathan Thompson, the Newseum's manager of media relations.

The exhibit spotlights key figures in the student civil rights movement, including former D.C. Mayor and current Ward 8 Council member Marion S. Barry; Congressman John Lewis (D-Ga.); Bob Moses, who served as a field secretary with the Student Nonviolent Coordinating Committee (SNCC) and director of SNCC's Mississippi Project; Jim Bevel; Julian Bond, who served as chairman of the National Association for the Advancement of Colored People; and Stokely Carmichael. It was through SNCC that young activists used direct action to defy and bring segregation to an end and break down the varied racial barriers erected in voting rights, education and the workplace.
Frank Smith, Jr., executive director of the African American Civil War Museum in Northwest and a former local elected official, counted as one of those foot soldiers. While attending Morehouse College in Atlanta, Ga., in 1959, he dropped out of school, joined SNCC and worked in Mississippi for five years.
One of his colleagues, the late Lawrence Guyot characterized the violent, anti-black nature of his home state this way: "There's the United States, there's the South and then there's Mississippi."
"I got involved with a group at Morehouse. We protested segregation and other things going on with blacks, I left school, put college on hold and went to Mississippi," said Smith, who served on the D.C. Council for 16 years. "I sacrificed my young years for a cause I believed in."
Smith said he and the other activists focused on voting rights and education.
"We worked with people in church basements and lonely places," he recalled. "They were mistreated when they went in to register and many of them failed the [literacy] tests. They were intimidated at home and on the job and their names were given to the Klan who came to their homes. It was a double-edged sword and it weighed on you. It was a danger for us but you knew that you were putting them in danger. It was a tough time but it ultimately changed America."