Student Involvement in Civil Rights Focus of Newseum Exhibit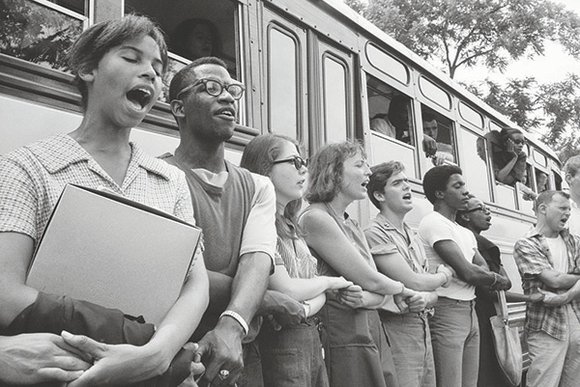 Smith, 70, said one aspect of those experiences still resonates all these years later.
"[It is] the absolute courage, desire and determination of the people in Mississippi to register to vote," he said.
The exhibit's title, "Make Some Noise," is taken from a quote by Lewis, a pivotal figure in the civil rights movement as a young man.
At one point, Lewis, 73, told his colleagues: "You've got to get out there and push and organize and agitate and stand up and make some noise…"
When he was a boy, Lewis said he was inspired by the Montgomery Bus Boycott and the activism it engendered. He was also deeply affected by the Rev. Dr. Martin Luther King Jr., whose words he heard on radio broadcasts. As a result, he decided to become a part of the civil rights movement.
As a Fisk University student, Lewis helped organize sit-ins at segregated lunch counters in Nashville, Tenn. In 1961, he volunteered to go on the Freedom Rides to challenge segregation at interstate bus terminals across the South. Lewis' life was constantly at risk and white mobs beat him severely a number of times, while the police arrested him often for challenging Jim Crow.
Lewis served as SNCC chairman from 1963 to 1966 for the organization largely responsible for coordinating student activism in the movement, including sit-ins, demonstrations, civil disobedience and other acts of defiance.
Among other notable events in 1963: More than 250,000 people from around the country converged upon Washington, D.C. to take part in the March on Washington for Jobs and Freedom; the civil rights movement was in full swing with students actively engaged in boycotts, demonstrations, marches and sit-ins at lunch counters in cities large and small throughout the South; black and white Freedom Riders braved virulent racists in an effort to topple segregation in interstate travel; an assassin gunned down Civil Rights martyr Medgar Evers in his driveway; and four little girls were killed after a bomb tore through the 16th Street Baptist Church in Birmingham, Ala.
In addition, President John F. Kennedy made an unprecedented speech on civil rights where he promised to seek a new Civil Rights bill.
The exhibit includes a section of the original F.W. Woolworth lunch counter in Greensboro, N.C., where in 1960 four African-American college students launched the sit-in movement, as well as a bronze cast of the Birmingham, Ala., jail cell door from where King penned his famous "Letter From Birmingham Jail" in 1963.
One of the statements emblazoned on a large exhibit wall poster comes from Lewis, often referred to as the "Conscience of Congress," who said, "Without the media, the Civil Rights Movement would have been a bird without wings."
To that end, Thompson said, the Newseum will host a series of panel discussions and special events relating to civil rights and the roles the First Amendment and the news media played in that movement. These will be held throughout the year. In addition, the Newseum, located in Northwest, plans to make civil rights educational resources available for teachers around the world through its digital classroom.
On Thursday, Aug. 22, the Newseum, in partnership with the National Council of Negro Women (NCNW), will host a free evening program, "Covering Civil Rights: On the Front Lines." The 7 p.m., program will include a special appearance by the Rev. Bernice King, chief executive officer of The King Center and daughter of Martin Luther King Jr. and Coretta Scott King. Rev. King will receive the NCNW's 2013 Leadership Award.
Moderated by Sirius XM Radio Host Joe Madison, the event will also feature a discussion with Simeon Booker, 94, a renowned journalist and author of "Shocking the Conscience: A Reporter's Account of the Civil Rights Movement." During his many years as a journalist, Booker chronicled the civil rights story while on the frontlines of the struggle. The program is free and open to the public.
Thompson said the Newseum is also launching a three-year changing exhibit, "Civil Rights at 50," which will be updated each year to chronicle milestones in the civil rights movement from 1963-1965 using historic front pages, magazines and news images.