Wizards' Wall Gets Emotional over New Deal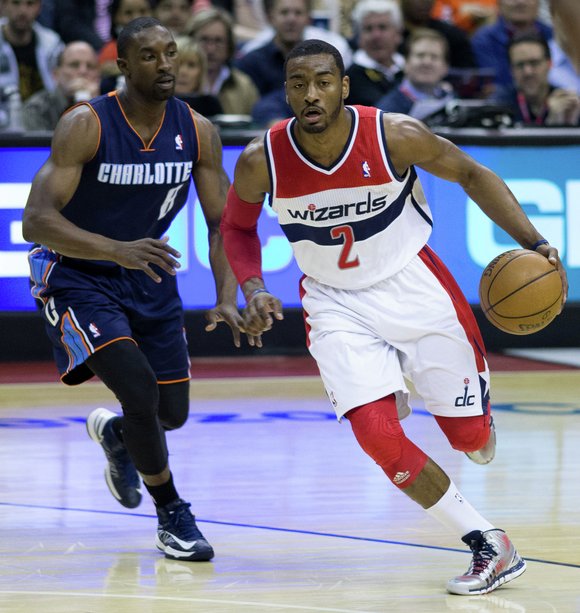 John Wall gritted his teeth and choked back tears as Washington Wizards executives announced details of the star guard's new five year, $80 million deal during a news conference on Friday, Aug. 2 at Verizon Center in Northwest.
However, it wasn't long before emotions got the better of Wall as the NBA's latest millionaire recounted the journey that brought him from the rough-and-tumble streets of Raleigh, N.C., to center court in Washington, D.C.
"Losing my dad at 9, it made my mom do what I don't think many women could," Wall, 22, said as tears streamed down his cheeks. "She worked three to four jobs and, having six sisters and two brothers, I just had to work extra hard and I had to become a man [faster] than I wanted to."
Wall's family, including his mother Frances, beamed with pride, as Wizards president Ernie Grunfeld put his hand on the young scoring machine's shoulder, and the team's owner, Ted Leonsis, declared the contract to be official.
"I have genuine affection for John Wall," said Leonsis, 56. "Since drafting him with the first overall pick in the 2010 NBA draft, we have been impressed with his maturation, hard work and commitment to our franchise. He is the cornerstone of our team, and we have clearly expressed our desire to build around him."
Wall holds career averages of 16.9 points, 8.0 assists, 4.4 rebounds and 1.5 steals in 184 career games. Those numbers place Wall in the same elite category as Milwaukee Bucks Hall of Famer Oscar Robertson, the great Los Angeles Lakers legend Magic Johnson and Los Angeles Clippers All-Star Chris Paul as the only players in NBA history to have averaged or are currently averaging at least 16 points, 8 assists and 4 rebounds over the course of their respective careers.
Wall counts among the four players in NBA history to average at least 16.5 points, 7.5 assists, 4.0 rebounds and 1.5 steals over the first three years of a professional basketball career.
"I am both proud and humbled by the belief that the Wizards organization, the fans and my teammates have shown in me since I arrived here three years ago," Wall said. "I can promise all of them that I will repay that belief by representing the city of Washington and doing everything I can to get this team back where it belongs."
Wall, who recently returned from his second consecutive summer as part of the USA Basketball Men's National Team mini-camp, is also the fastest player in league history to reach 2,200 points, 1,000 assists, 600 rebounds, 200 steals and 90 blocks.
Also, no other active player has reached 900 career assists in as short a period as Wall, who achieved that milestone after only 111 games.
"John's talent, ability and athleticism are unquestioned, but he is also a special player in terms of his will to win, unselfishness and ability to make his teammates better," said Grunfeld, 58. "The impact he has in all of those areas was evident last season and we look forward to both him and the team reaching new levels of success together."