Bahamians Celebrate Freedom, Economic Opportunity at Embassy
8/9/2013, 7:29 a.m.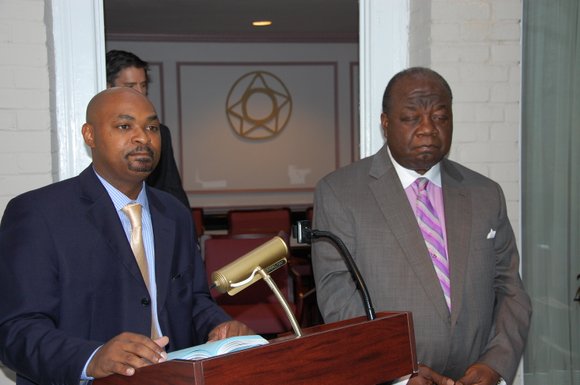 Investment opportunities in the Bahamas were highlighted during a reception at the country's Embassy in Northwest D.C.
Elliston Rahming, Permanent Representative to the Organization of American States (OAS), welcomed more than 100 lawyers and professionals from Washington's business community on Aug. 5, noting that the catered event was being held on a day when Bahamians were celebrating Emancipation Day, the official abolition of slavery in the Bahamas in 1834.
"So there is a big celebration all over the country today with Junkanoo music and dancing," Rahming said. "It's a very celebratory experience every year around this time."
Rahming added that in many respects the Bahamas is like every other Caribbean country, but there were some distinct differences relative to the United States, citing "proximity" as one of those differences.
"We are very close to the United States, fewer than 100 miles from the southern tip of Florida," Rahming said. "So one can get to the Bahamas from Miami in, let's say, 20 minutes. You can get from Washington, D.C., to Nassau, and certainly Freeport, in two-plus hours."
He cited "political stability" as something of which Bahamians are very proud.
"We became an independent country on the 10th of July 1973," he said. "In fact, we are now celebrating our 40th anniversary of independence. So we have come through some seven elections since then, all of which were conducted without any hint of violence and with a vote of participation rate that hoovers around 94 percent. We think that throughout the hemisphere, that is among the highest. So we are proud of ourselves and our democratic traditions."
Rahming delegated responsibility for promoting investment opportunities in the Bahamas to Chet Neymour, Deputy Chief of Mission and an economist who is an expert in that area.
Neymour noted that the Bahamas has a "long tradition of friendly relations" with the United States, adding that "our relations have been diplomatic and it has also been economic."
"From the economic perspective we have been participants in the Caribbean Basin Initiative, which allows for investment to take place under the umbrella of the overall vehicle that allows Caribbean countries to bring in duty-free items in specific areas," Neymour said. "In 1994, in order to probably put a little bit more structure to the amount of investments coming to the Bahamas, we established an investment policy. That's about 19 years ago and we have been trying to tweak it as we go along."
One of the ideas, Neymour said, was to set a clear level of delineation "of what was allowed for foreign investments and what was allowed for domestic investments."
He went through a list of areas for foreign investments, specifically mentioning tourism resorts and the $2.2 billion Baha Mar project that is being developed on West Bay Street in New Providence and which is due for completion in December 2014.
"What I have noticed is that a number of you here tonight come from the legal profession," Neymour observed. "We have a lot of local lawyers who conduct business through and with U.S. firms and a number of our real estate transactions also involve members of the U.S. Bar. So there are a lot of opportunities for persons in the legal field to invest in the Bahamas and to network with lawyers in the Bahamas."
Neymour emphasized that the Bahamas has a functioning Tax Information Exchange Agreement (TIEA) with the United States and other jurisdictions, adding that banking and financial services are "investment areas in which we have been cooperating with the U.S."
"Unlike many of our competitors we have always been and continue to be a pristine and well-respected financial jurisdiction," he said.