Jill Scott Sits Down with the Smithsonian
8/9/2013, 11 p.m.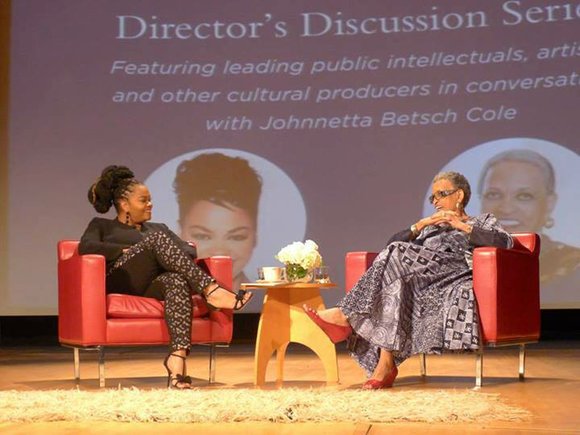 Award-winning singer and best-selling poet Jill Scott recently sat down with Johnnetta B. Cole, director of Smithsonian's National Museum of African American Art, as part of Cole's Director's Discussion Series.
The two met in the Rasmuson Theater at National Museum of the American Indian on Aug. 9 for an intimate conversation that touched on a wide range of topics, including fame, art and motherhood.
Scott spoke of her latest project, a lullaby album for her son, Jet, that was completed in just four days and features virtuoso jazz pianist Robert Glasper.
"The lyrics were written to erase what has been programmed in your mind and to get to the bare basics of humanity," she said.
The two also discussed Scott's experience in Botswana. She was in the country with late director Anthony Minghella to shoot the HBO series "No. 1 Ladies' Detective Agency" in 2007.
"Anthony Minghella gave me Africa like it was on a silver platter," Scott said. "And he told me that the first and most important thing that I must do is to humble myself and just be fully open to what Africa is, because I had never gone. I expected some things, and what I discovered is, Africa isn't rude, she don't jump on you … Africa is very polite and beautiful beyond true words."
Scott shared the importance of "being in the world but not of it."
Cole, who began the series in 2011 "to engage in conversation some of the world's great thinkers, artist and cultural figures," has hosted a handful of renowed figures ranging from chef Marcus Samulsson to poet and author Maya Angelou.
How was Jill Scott chosen amid so many other great artist and intellectuals?
"One day [Smithsonian public affairs specialist] Eddie Burke came to me and he said 'Dr. C, I've got a great idea for our next discussion,' and the moment he said Jill Scott, I knew that that is what we would want," Cole said. "Just look at the connections, they're so obvious — Jill Scott spent seven months of her life in a place called Africa, in a country called Botswana, and we are the national museum displaying the extraordinary art of Botswana and 54 other African countries. And perhaps a lot of don't know this, Jill Scott is a collector of art."
Dr. Cole said she hopes to bring in Cicely Tyson for the next installment of the series.
Click here to view the full discussion: ustream.tv/recorded/37083711