Obama: U.S. Shouldn't Boycott Russian Olympics
WI Web Staff | 8/9/2013, 4:05 p.m.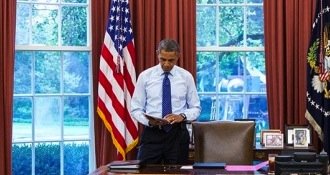 President Obama said Friday that the U.S. shouldn't boycott the Winter Olympics in Russia, though he admitted the recent tension between the two nations has put the frosty relationship on "pause."
He said during a press conference at the White House that he is "offended" by Russia's anti-gay legislation but quelled talks of boycotting next year's Winter Olympics in Sochi, Russia, that have increased in recent weeks.
He countered that the best way to combat the legislation would be for gay or lesbian athletes to succeed in the Olympics, adding that the absence of gay or lesbian athletes for Russia "will probably make their team weaker."
The two nations have been at odds over numerous issues, including Russia's support of the Syrian government in that country's civil war. The most recent disagreement stems from Russia granting asylum to NSA leaker Edward Snowden, which culminated in Obama backing out of a summit next month with Putin.
"I've encouraged Mr. Putin to think forward as opposed to backwards on those issues — with mixed success," he said.
Obama said that it was "probably appropriate" for the two nations to "take a pause."