Mentoring Group Holds 3rd Annual Back-to-School Event
WI Web Staff | 8/12/2013, 11:15 a.m.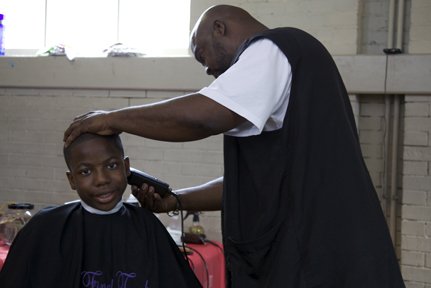 The D.C. chapter of a national organization dedicated to providing positive Black male role models for children held their 3rd annual Back to School Give-Away on Saturday, Aug. 10 at the Thurgood Marshall Center for Service and Heritage in Northwest.
The event, which ran from 10 a.m. to 2 p.m., provided students with school supplies, free haircuts and dental screenings. For parents, information on child support services, health screenings and free manicures were also available.
"The goal of this event is to get students excited and prepared about the upcoming school year," said George Garrow, the executive director of Concerned Black Men. "We want to ensure all students have the necessary school supplies they need to be successful."
Thomasina Yearwood, executive director of the Marshall Center, said she was "thrilled" to partner with the organization for the event and that the two have a common goal to "serve our community and make a positive impact in the lives of youth."