PBS' 'NewsHour' Commemorates 50th Anniversary of March on Washington
Gwen Ifill interviews March Participants, Civil Rights Leaders and Historians
8/13/2013, 12:40 p.m.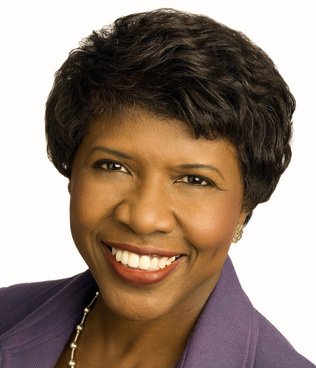 PBS "NewsHour" anchor and managing editor Gwen Ifill leads a series of conversations commemorating the 50th anniversary of the historic March on Washington on the show through August.
The 1963 March, a watershed moment in the Civil Rights Movement, featured the Rev. Martin Luther King's famous "I Have a Dream" speech and helped usher in sweeping civil rights legislation. For perspective on the historic event and its impact today, Ifill interviews march participants, many of whom are now local and national leaders and historians.
Wednesday, Aug. 14 — William P. Jones, author of "The March on Washington: Jobs, Freedom and the Forgotten History of Civil Rights" offers an overview of how the march came to be in the months and years that preceded it.
Wednesday, Aug. 21 — Rep. Eleanor Holmes Norton reflects on the historic day and the role she and other women played in the march and larger civil rights movement.
Monday, Aug. 26 — Cleveland Sellars and his son Bakari Sellars discuss the impact of the march on their lives then and now. Cleveland was involved in the Orangeburg, SC protests, sit-ins and was in DC for the March. Bakari is now a South Carolina state lawmaker running for lieutenant governor.
Tuesday, Aug. 27 — Historian Peniel Joseph and director Bonnie Boswell Hamilton discuss the march, the fight for civil rights and Boswell's documentary: "The Powerbroker: Whitney Young's Fight for Civil Rights," which tells the story of her uncle, a march participant. The documentary re-airs that night on PBS.
Wednesday, Aug. 28 — To commemorate the actual anniversary of the march, Gwen Ifill interviews Rep. John Lewis, the only surviving speaker from that day.
ONLINE: Watch events LIVE on the day of the anniversary from the Lincoln Memorial in Washington, D.C. "NewsHour" will live stream the "Let Freedom Ring Commemoration and Call to Action Ceremony" beginning at 1 p.m. EDT on Aug. 28.

Thursday, Aug. 29 — Gwen Ifill discusses the legacy and impact of the march in a joint interview with historian Taylor Branch and filmmaker Shukree Hassan Tilghman, whose month-long PBS web series "The March@50" and Google hangouts begin that week.
Jeffrey Brown previews "NewsHour" special coverage and discusses the relevance of the march today with historians Ellen Fitzpatrick of the University of New Hampshire, presidential historian Michael Beschloss, George Chauncey of Yale University and Kenneth Mack of the Harvard Law School Program on Law and History.
PBS NewsHour's conversations are part of a week of special programs on PBS celebrating the 50th Anniversary of the March on Washington.