P.G. County Committee Weighs in on Gang, Youth Violence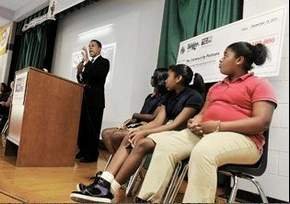 Better coordination among groups working to stem gang and youth violence and more character education in schools are two initiatives that a task force suggests could make a difference in deterring crime.
The Prince George's Youth and Gang Violence Prevention Steering Committee has turned in its report and 23 recommendations to the Prince George's County Council and the county executive. They say, if implemented, these suggestions will go a long way in decreasing gang and youth violence.
Among its recommendations: move the Youth Strategies and Programs Division to the Office of Community Relations, establish a grant writer position, clarify the mission and purpose of the Office of Youth Strategies and Programs, better track funding on youth and gang violence programs, provide money to schools for character education and include input from youth groups on how to prevent violence.
"Any presence of a gang engaged in criminal activity is a problem," said the committee's co-chair Eric Olson, a member of the Prince George's County Council. "I think it's a long-term effort. We are not going to see wholesale change immediately."
The 25-member committee, which was established in 2010, focused its efforts on intervention and prevention strategies. The committee was made up of representatives from the police department, sheriff's office, corrections department, youth and family service agencies, ministries, the NAACP, University of Maryland and other organizations.
According to the report, the task force achieved its primary goal of "bringing together numerous agencies and organizations to communicate and brainstorm about youth and gang violence. This, in and of itself, was significant, as a number of agencies and non-profits were unaware of some existing youth and gang-related programs that were being run by others."

Council Member Will Campos, co-chair of the committee, said he's pleased with the outcome. "I am happy that we were able to bring much-needed attention to an issue that is affecting our youth in many parts of the county," said Campos. "We need to make sure we stay engaged and keep communication flowing with all entities involved in the committee."
The committee would like to see continued coordination and intra-governmental collaboration with non-profits, law enforcement, and the education community.
The report cites accomplishments made thus far that are having a positive effect such as the establishment of the county Transforming Neighborhoods Initiative (TNI), launched in 2012. TNI focuses resources in six targeted areas – Langley Park, East Riverdale/Bladensburg, Kentland/Palmer Park, Suitland/Coral Hills, Hillcrest Heights/Marlowe Heights, Glassmanor/Oxon Hill.
Olson said cleaning up these areas and taking a multi-faceted approach to improving health, recreation, and youth services are key.
"It's all those elements," said Olson. "It helps to create more stability."
In part, the report stated that a "holistic approach is needed to ensure that our youth have the self-respect and self-confidence they need to become contributing adults."
Other accomplishments cited include: increased partnerships, collaboration and information; increase in resources and outreach efforts, and an overall reduction in crime in Prince George's County in 2011 and 2012.

"We have been doing a number of things to try to reach young people and address some of the problems [facing] young people before they get attracted to a gang," said Olson.
Olson said the task force did not request gang activity statistics and was more concerned about determining steps that can be taken to make a difference.
Additional recommendations made by the committee: investment in after-school and summer programs; development of programs designed to include parents, especially fathers or male adult family members; funding to publicize and market existing county resources, especially hotlines to report gang activity and provide crisis services to youth; develop a process for research, outreach, and collaboration with local faith-based and church organizations that are pursuing solutions to prevent youth and gang violence.