D.C. Re-Entry Resource Center a 'One-Stop Shop'
Margaret Summers | 8/14/2013, 3 p.m.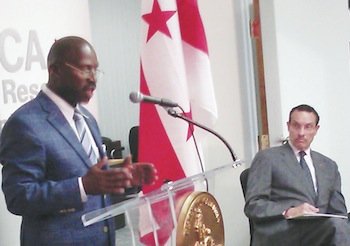 People returning to the District following years of incarceration in prisons around the country are often disconnected from their families. They lack the skills, training and education needed to reestablish themselves in their communities. Many become recidivists to finance basic necessities.
But the Mayor's Office on Returning Citizen Affairs' (ORCA) Re-Entry Resource Center enables such individuals to go to a central location for assistance in obtaining everything they need – employment training and preparation, education, housing, and access to health care.
"We've been operating since July 8, and already processed 422 intakes," Charles Thornton, ORCA's director, told the packed audience attending the August 6 official opening ceremony. The center is in Room 100 at ORCA, 2100 Martin Luther King Avenue, Southeast.
Thornton, 52, a Ward 6 resident and returning citizen who grew up in Southeast's East Capital Dwellings, said the center was created through partnerships with 16 District municipal agencies, and local and federal criminal justice agencies. The center has also partnered with area educational institutions such as Howard University's Schools of Law, Social Work and Divinity, which conduct assessments of returning citizens seeking educational opportunities, and Georgetown, George Washington, and American Universities. The University of the District of Columbia Community College is also a partner.
"The Department of General Services is working with us. They have schools' and libraries' renovations which involve returning citizens," said Thornton. "We have a program with the District Department of Transportation (DDOT) where returning citizens learn skills like putting up street signs. They can subcontract with companies that work with the department, and they are developing skills that are transferrable to other jobs."
"If we can keep people gainfully employed, that's a public safety issue," Thornton added. "Reintegration is a public safety issue."
Thornton said ORCA's annual budget, which an Office of Budget and Finance website lists as $266,000, is not a hindrance in helping returning citizens. "We're working with 16 other agencies which have untold resources. That's what collaboration is all about."
Mayor Vincent Gray, 70, praised Thornton's and the center's efforts to reintegrate returning citizens. "I doubt that there are many other cities which have brought together such agencies to serve this deserving population," he said.
Gray said he changed the name of the agency from the "Office on Ex-Offender Affairs" to its current name by executive order because "it is a much more dignified name. The idea is to give people self-sufficiency so they can have respect and dignity." Gray also signed the District's "Ban the Box" legislation into law. The measure removed the check-off box and question on application forms inquiring whether applicants for District government jobs had criminal records.
"You won't be knocked out of the box, no pun intended, when you apply for a job," Gray said. "You will be considered on your qualifications alone."
Paul Quander, 58, the deputy mayor for Public Safety and Justice, said that as a result of the center, "Returning citizens feel good about themselves, they feel welcomed. And as they go, so their children go, and their communities grow. A lot of work and vision has gone into making this center."