EDUCATION BRIEFS: D.C. Charter Schools 'Confident' of Finances
8/14/2013, 3 p.m.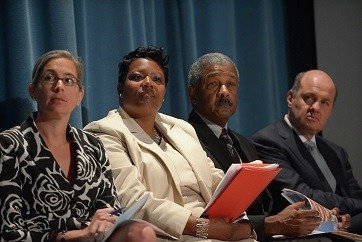 The D.C. Public Charter School Board (PCSB), Office of State Superintendent of Education and the Office of the Chief Financial Officer recently announced results from the annual financial analysis of District public charter schools, which show that their financial health significantly improved during the past year.
The report, which was conducted in 2012, reveals in a definitive study, the financial health of all 53 public charter schools that were in operation last year.
According to a PCSB-issued statement, the schools collectively received $504 million in District funds in per-pupil allotments, a facilities allowance of $96 million, as well as federal and philanthropic funding totaling an additional $110 million.
"In years past, we had a few schools literally run out of cash in the middle of the year, creating great disruption for families and school staff," said Scott Pearson, PCSB executive director. "With the creation of the Audit Management Unit, I am confident that we now have the oversight in place to ensure that charter schools have the financial health to meet their obligations."
In addition, there were fewer individual schools with flagged financial issues. Also, the number of charter schools with audit problems declined to eight, compared to 18 in fiscal 2011.
Fairfax County Public Schools
Fairfax County Public Schools open on Tuesday, Sept. 3, where an estimated 184,625 students will begin classes in the nation's 11th largest school system.
The students will attend 139 elementary schools, 20 middle schools, 22 high schools, seven special education centers, two alternative high schools, and 46 alternative programs. Three of the schools are magnet facilities, and include Bailey's Elementary School for the Arts and Sciences, Hunters Woods Elementary School for the Arts and Sciences, and Thomas Jefferson High School for Science and Technology.
Meanwhile, in July the Fairfax County School Board elected Ilryong Moon as chairman and Tamara Derenak Kaufax as vice chairman. Both officers will serve a one-year term.
Montgomery County Public Schools
More than 100 students received their diplomas during the recent 2013 Regional High School Summer School graduation ceremony that took place at Richard Montgomery High School.
During the Aug. 8 ceremony, students from 25 high schools received their diplomas, making them bonafide members of the Class of 2013.
"It's important to recognize that these students, who for whatever reasons [didn't march in June among their 12th-grade classmates] reached a milestone and deserve to have a wonderful, beautiful graduation ceremony," said Anne Taylor, director of Montgomery County Public Schools' curriculum and instructional programs.
Prince George's County Public Schools
The Office of Interscholastic Athletics has announced the 2013-2014, fall, winter and spring sports programs for middle school students.
Fall and winter offerings include baseball, softball, cheerleading and basketball. Soccer players will be recruited for the spring program.
Student eligibility requirements are as follows: Students in the seventh- and eighth-grades must have at least a 2.0 grade point average (GPA) from the previous grading period.
While sixth-graders are automatically eligible for fall sports, they must have a 2.0 GPA from the previous grading period in order to participate in winter and spring sports.
Parents must complete the student/parent packet, which can be downloaded at the Prince George's County Public Schools' website.
A physical examination form completed by a licensed physician, certified physician's assistant or a certified nurse practitioner must be returned to the schools' athletic director.