Greater First Baptist Church Celebrates the Faith of a Servant
Lee Daniels' 'The Butler' Depicts the Life of Eugene Allen
B. Denise Hawkins | 8/14/2013, 3 p.m.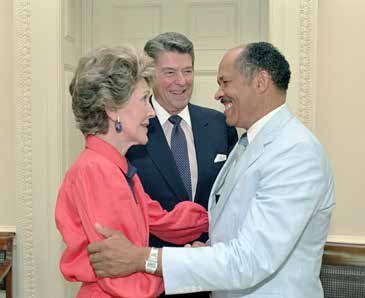 Even on the seventh day, Eugene Allen served.

A short ride from his home off Georgia Avenue NW in the District delivered him to The Greater First Baptist Church on the corner of 13th and Fairmont streets. When he stepped through the front door and into the lobby, Allen looked like other workers in the ministry of service – ready and determined. Well groomed and standing tall, Allen could be counted on to show up well ahead of the 11 a.m. worship service.
As president of the band of senior ushers, Caroline Hereford would sometimes stop when Allen arrived. It was to give him the once over, always with admiration, a smile, and a nod. She, like other usher board officers Allen served under at the church, could look but never find a reason to inspect or fix his uniform when he was on duty.
"Brother Allen was always impeccably dressed. I'd first look down at his shoes, which were always shining, then up at his black suit and crisp white shirt." His gold-trimmed usher's badge adorned the left breast pocket of his jacket.
On a recent Sunday morning, Hereford remembers Allen, her friend and fellow usher, as she begins to rally and assemble her team. But Hereford knows that none of them is ever ready to greet and usher in the faithful until they first huddle together out of view, near a stairwell in a corner of the church. Allen would have been among this circle of servants as each linked hands, bowed heads, and uttered fervent prayers for their work and for each other.
While on duty at Greater First Baptist, "Brother Allen's" white-gloved hands held open the doors of God's house, directed churchgoers into waiting pews, and distributed fans and bulletins. During the preaching hour, when most of their duties ceased, Allen would again join fellow ushers seated in the center section of the church along the last pew. It was the designated place for ushers. Then on the Sundays when Allen, also a church trustee, served in that capacity, his place was at the front of the church in the second or third row among the lay leaders of Greater First Baptist.
But for years, few who worked with Allen on church business or prayed alongside him at the church, knew what he did for a living. If they didn't ask, Allen didn't tell. For more than three decades, Allen held another post with pride, serving America's presidents – from Truman to Reagan – at 1600 Pennsylvania Ave. He served as the White House butler.
Recalling Allen's "dignified presence" in the church, Judith Webb, a longtime member at Greater First Baptist, can't help but imagine how Allen, the butler must have also moved with a similar pride and dignity through the halls of the White House.
The life he lived as a master butler and witness to history is now the subject of a book by Washington Post staff writer Wil Haygood who first chronicled Allen's life in a 2008 feature story. Haygood's article inspired the movie titled "Lee Daniels' The Butler," which is loosely based on Allen's White House years. The faith of the man portrayed and the church considered central to Allen's personal and professional life of service, however, won't be featured in the film, laments the Rev. Dr. Winston C. Ridley Jr.