High School Students' Summer Graduation
Result of Hard Work, Persistence
Margaret Summers | 8/14/2013, noon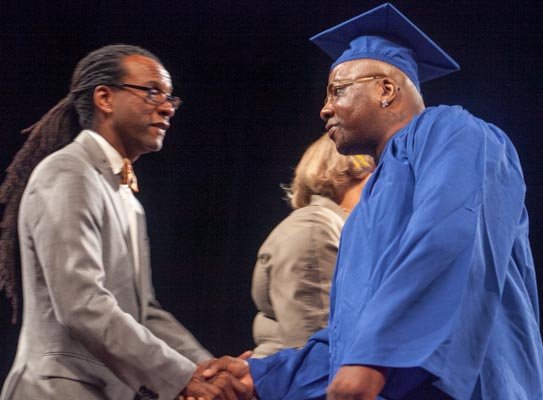 Enthusiastic cheers, shouts and applause filled The George Washington University Lisner Auditorium on August 9. Nearly 1,000 people attended the event at 730 21st Street Northwest. Participating were 323 young men and women from 23 District of Columbia public and charter schools who completed their high school graduation requirements this summer.
Resplendent in caps and gowns of vibrant blue, gold, white and other colors, students crossed the stage as their names were called to accept their hard-won diplomas. They were congratulated onstage by, among others, John Davis, the District of Columbia Chief of Schools, D.C. Council member Yvette Alexander (D-Ward 7), and keynote speaker Kenneth Ward, executive director of College Bound, Inc.
Many students endured years of painstaking study to graduate, a fact that was not lost on the commencement speakers.
"We expect greatness from each and every one of you," said Alexander. "Congratulations, and don't forget to dream."
Ward, of College Bound, Inc., in Northwest said his organization prepares District eighth through 12th graders for college through tutoring, mentoring, college entrance exam training and career guidance. He said the District is changing rapidly, with construction of new buildings, and an influx of new residents for whom the city is creating "bike paths and dog parks."
"You have to decide where you fit in these changes," said Ward. "Only one fourth or less of African Americans and Latinos has more than a high school diploma. Without a high school diploma and college [degree], you will keep yourself trapped in a life of poverty and despair."
He cautioned against being discouraged by setbacks.
"Automaker Henry Ford went bankrupt five times. Early in his career, a casting director told Sidney Poitier, 'Why don't you stop wasting people's time? Go out and get a job as a dishwasher.'"
Ward said one's chosen life path is determined by character and ability to dream. "Dream big. I'm convinced that my ancestors' dreams are what kept them alive."
Often, big dreams are not enough in a world where a 17-year-old boy armed only with a bag of Skittles candy and some ice tea can be gunned down, Ward noted. "We must not only dream, but create the world we want for our children, and our children's children. Keep a hunger for justice."
After commencement, some students from Ballou STAY High School in Southeast, a school specializing in students with academic challenges, discussed their journeys to graduation. DaShawn Washington, 21, of Southeast, said, "I couldn't always get child care for my one-year-old twins Miké and Mikhya, and my two-year-old son Demahri. I didn't always have transportation until I was able to get a car. I stayed with it because of my children." Washington wants to earn a psychology degree at the University of the District of Columbia and become a counselor.
"I was supposed to graduate in 2011, but I wasn't doing the work I was supposed to do," recalled Somaiya Blakney, 19, of Southeast. She left Suitland High School in Suitland, Md., and enrolled in Ballou STAY. "I spent an extra year there because I didn't have enough credits to graduate. Everybody at Ballou STAY cared about me, the teachers and the counselors. Graduation means new beginnings." Blakney wants to attend a cosmetology or photography school.
Germaine Curtis, 53, exemplifies Ballou STAY's motto, "It's never too late to earn your high school diploma." Curtis dropped out of school in the 10th grade. "I was in gangs, drinking and getting high. But I decided to get my life together."

After giving up alcohol and drugs, Curtis, of Southeast, spent four months in a Colorado Job Corps program and six years in the military. "But I felt something in my life wasn't complete. Without a high school diploma, I could only get low-paying jobs. In job interviews, I would lie and say I dropped out in the 11th grade."

The life of Judge Greg Mathis, a television reality show star, inspired Curtis to graduate. "Judge Mathis was in gangs (as a youth). Now, he's recognized worldwide."
At Ballou STAY, Curtis stayed up late studying, cramming 12 years of educational effort into weeks. He wants to attend college and become an addiction counselor, "helping people in the same boat I was in."