Historic March on D.C. Horizon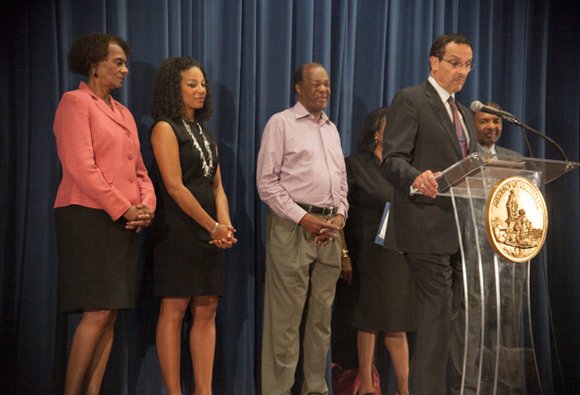 As the District of Columbia prepares for the 50th anniversary of the historic March on Washington, Mayor Vincent C. Gray (D) said the city will provide materiel resources and in-kind services to support the march's 50th anniversary.
Gray said no one knows how many people will participate in the march which will take place on the National Mall on Saturday, Aug. 24, adding during a news conference last week that no one has figured out the eventual costs to the city.
"We're participating in every aspect of the march. We don't know how much it will cost. But for our purposes, what is the cost of freedom?" Gray asked.
At a press briefing, Gray announced and introduced the 22 members of the March on Washington DC Host Committee.
Gray, Ward 8 Council member Marion S. Barry, the National Action Network's Janaye Ingram and Frank Smith were among those who discussed the 1963 March on Washington; the arc that connects it to the 50th anniversary commemoration; and the task District residents and other African Americans have to continue moving the baton forward.
"You'll recall that the march in 1963 was the largest event of its kind with 250,000 people," Gray told the standing-room-only audience at the African American Civil War Museum in Northwest on Aug. 7. "It was covered on television, was a peaceful march and people walked from 14th Street to the Lincoln Memorial."
"There were many speeches delivered but the most significant and compelling was Dr. King's speech. More specifically the marchers advocated for an end to racial segregation, freedom from police brutality and fair wages and fair pay. King articulated self-rule for the District of Columbia. He spoke about this (then) and here we are in 2013."
The city, Gray said, is still burdened by Congressional overlords who have held on tightly to budget autonomy, who continue to deny Rep. Eleanor Holmes Norton (D) voting privileges and who routinely interfere in the city's affairs.
"We still are disenfranchised and can't approve our own budget despite a sterling track record," said Gray, 70. "Many days, we're our own worst enemy but we deserve the right to rule our city. I hope again, for the march to be the platform for enfranchisement. I hope people will come out because if they don't, people will think we don't care. Two hundred or 500 people coming out would be a weak statement. Irrespective of the differences you have, you should agree on enfranchisement for our people."
Ingram, the D.C. bureau chief of the National Action Network, and the main logistical organizer of the march, said the Aug. 24 march is a call to action.
"Invalidating Section 4 of the Voting Rights Act was a huge threat to democracy in this country," she said. "Many voting laws were intended to prevent us from voting. We're marching to restore these laws."
Ingram noted that women face a raft of challenges around reproductive and other rights and student loan debt and rates threaten to bury those who are or were trying to get a higher education.