Historic March on D.C. Horizon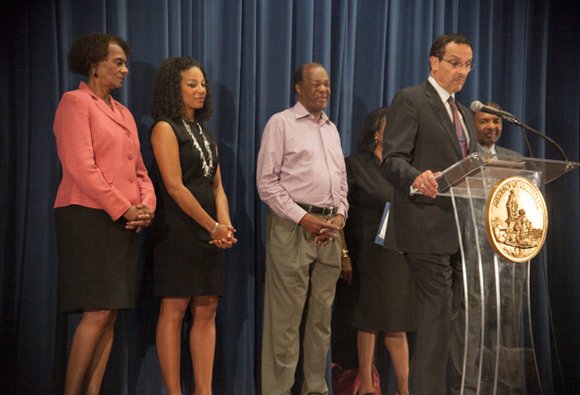 "Joblessness is still an issue with unemployment 2 to 1 for black people and youth are six times more likely to be unemployed."
Smith, chair of the DC March on Washington Host Committee and executive director of the African American Civil War Museum, joked that he was one of the few people in the room willing to admit that he participated in the 1963 march.
"I traveled here from the Mississippi Delta after having been in jail," he said. "I stayed in D.C. for six weeks for rest and relaxation. People gathered at 11th and Monroe streets and walked to the Mall. … I thought we might even win this thing."
Smith, 70, described himself as "an old-fashioned SNCC organizer" who "keeps finding one or two [people] until we get a million." The Student Nonviolent Coordinating Committee (SNCC) served as the catalyst for the civil rights movement and was composed primarily of young people.
The chairman of the host committee and former civil rights activist was appointed by Gray about three weeks ago, and the former D.C. council member said during an earlier interview that the committee was developing posters and flyers, sending out emails and using social media to spread the word. In addition, he added, the committee would be reaching out to people from churches and schools who marched in 1963.
Former D.C. Council Chairman Linda Cropp serves as the committee's vice chair.
"The march acted as a catalyst [bringing us] to where we are today," said Cropp, 65. "This has been the change needed to project us into the future. We still don't have freedom … we need to renew the idea and promise of the march."
Barry, a former four-time mayor who is serving his second term as the Ward 8 representative, regaled the audience with his recollections of the march.
"Frank knows I'm on SNCC time, plus or minus half an hour," he joked. "I thank the mayor for seeing what time it is: freedom time."
Barry, 77, said he was in his second year of graduate school pursuing a degree in chemistry and he and between 200 and 300 people who'd been demonstrating in downtown Nashville were rounded up and jailed.

"We decided to stay until Monday morning to make a statement," he said.
Barry said SNCC was impatient with the traditional civil rights organizations such as the National Association for the Advancement of Colored People, the National Urban League and others, and pushed for more immediate change.
"We thought the Big Six moved too slowly. We were independent and wanted to make our own revolution. We had revolutionary zeal … we were like [the] Occupy [movement] seeking to change things permanently."
Despite certifiable gains, Barry said, no one can be complacent because of the variety of challenges that continue to nip at people's heels.

"You all know I've been in public office for 31 years and it started with SNCC," he said. "If Jim Foreman hadn't asked me, I wouldn't be in Washington. Washington was a segregated and bad-off city much like cities down South. Police were beating people up for example."
"We need to free people from bondage and toward self-sufficiency. Until we step up the pace here locally, we will not be free. A lot of my constituents don't see the connection between their situation and autonomy. We'll continue to press on."
Gray agreed.
"The reality is that we still have many challenges," he said. "People will look at the Trayvon Martin verdict and ask how can that happen in a just society?"
He listed disparities in employment and educational underachievement as two pressing examples in the District.
"Those who think we've arrived should (look around) and see the challenges. We know that we still have challenges before us. We have made progress in this city but we have light years to go. The march will help us lay out strategy for the next 50 years," Gray said.