Hundreds Mourn the Passing of Ward 8 Activist James Bunn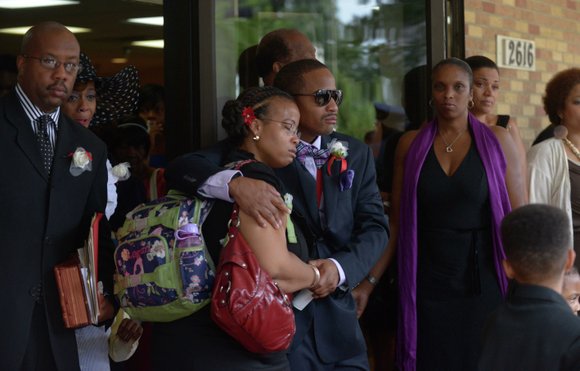 "I am going to miss Mr. Bunn," she said. "It will be hard working in the community without Mr. Bunn. I thank him for passing through my life."
Sheila Bunn, one of James Bunn's daughters, who currently serves as the deputy chief of staff for Gray and previously worked as chief of staff for Norton, addressed the crowd. She said that she was holding onto her faith during this time of loss but remembers some lighthearted moments that she and her father shared.
"Mr. Bunn would do things others would not," Sheila Bunn said. "We had a swimming pool in our backyard while others did not."
Bunn's grandchildren read an original verse entitled, "A Poem for PopPop." Vocalists Robert E. Person, Julius Riddick, and Wendell Jordan performed a musical selection, "When Thou Comest" to thunderous applause.
The Rev. Anthony Motley, a longtime friend of Bunn's and a well-known political activist in the District, offered a prayer of comfort.
"Mr. Bunn is in a better place," said Motley, 64. "He fought the good fight. He finished the course for there was no wavering in this man."
Dionna Stanton and Wanda Lockridge, friends of the late activist, each read scriptures during the service, and Bishop Matthew Hudson of Matthews Memorial Baptist Church offered the eulogy.

"If Mr. Bunn was here today, he would say that 'I fought the good fight and finished my course,'" Hudson said. "He would say that 'I have kept the faith and it is time to pass the mantle.'"
Barry said that there was one constant in Bunn's life.
"He loved Ward 8," he said with a smile.