THE RELIGION CORNER: 'The Big Secret' About Domestic Violence — Pt. 5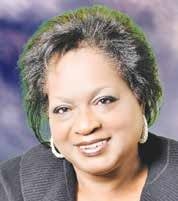 This week will end my five-part series on "Domestic Violence – the Big Secret." We pray victims currently living with this madness are reading this column or have read previous columns; I sincerely hope that someone who loves you will rescue you – if could be your mom, or father, a co-worker or a neighbor – but always remember – you've got to want to change your circumstances.
We shared the story of Lynn Strange, who married a man she knew to be an abuser, yet she signed on nonetheless; and her abuse only intensified; and in one of the worst scenarios, we shared the story of Mildred Muhammad, a mother of three, and the wife of the late John Allen Muhammad, the D.C. sniper. Mildred Muhammad lived in constant fear of being shot and killed.
This week, it's my turn. My ex-husband walked out and left me with three young children, ages 6, 12 and 15 in the middle of the night. He decided to move back to California.

He would go off and stay for days and even weeks at a time. So when he left, it didn't feel strange to us, however, as time elapsed, I knew instinctively that he was gone for good. And like Mildred Muhammad's former husband, my ex-husband's demeanor and temperament changed after serving in the Vietnam War.
Unfortunately, we never received any financial support; and I certainly never received alimony. It fell squarely upon my shoulders to ensure my children's well-being in all regards.
I compare myself to Mildred Muhammad. I was afraid that I might also see my ex-husband standing somewhere in the distance with a military-issued firearm in his hand, pointed directly at me. If you've never experienced any form or abuse, let me assure you that threats are real – they take on a life of their own. He said, "If you take me to court, you'll be sorry."

Why didn't I try? Maybe because I knew that he had changed his Social Security number. He told me "we're all just a number, get a new name, and a new number, and nobody can find you." He changed his name and he used my date of birth.
Thank God my three children are now grown and gainfully employed. They all have careers. One of my children graduated from Morehouse College. He earned a bachelor's in finance; then went on to the University of Maryland where he pursued his master's in finance. Today, he's a banker and he's doing very well.
My daughter is a computer technician at the Environmental Protection Agency. Though she didn't finish college, she completed cosmetology school and attended classes at Trinity University. I'm extremely proud of her. She's married and both she and her husband are computer technicians and they're able to provide for their family.
My youngest son happened to be a special education student, yet he was able to secure a great position with Whole Foods Market as a meat cutter. He's doing great. We're all good. I admit that I made mistakes along the way; my biggest misgiving is that I didn't involve the judicial system as it pertained to my ex-husband being held accountable. He shouldn't have been able to walk away scot free, but fear paralyzed me.

This is what abuse will do to you. Look at what it did to me. We don't think rationally. If you're in an abusive relationship, don't become a statistic – don't let another individual put you in a grave before your time. Keep praying! Tell somebody! Get help; call 911.
It's not what the Lord intends for any of us.
Lyndia Grant is an author, inspirational and motivational speaker, radio talk show host and columnist; if you would like Lyndia to serve as facilitator for your retreat or special event, call 202-518-3192. Tune in Fridays at 6 p.m., to the radio talk show, 1340 AM, WYCB, a Radio One Station.