DAVE OWENS: We're Blind to One of the NFL's Biggest Problems
Dave Owens, Special to The Informer | 8/17/2013, 4:47 p.m.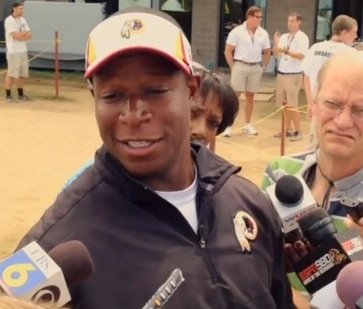 "All of [2012], there wasn't a single African-American coach calling plays until [Baltimore Ravens offensive coordinator] Jim Caldwell took over in December," Mehri said.
That fact helps explain why so few African-American coaches are getting a chance to lead NFL teams.
"The numbers don't lie but I don't know that it's intentional," said Pep Hamilton, offensive coordinator for the Indianapolis Colts.
Hamilton is a rare breed, indeed. A black man calling plays for an NFL franchise. His journey is just as fascinating. He was a scholar-athlete quarterback at Howard University from 1993-96. He graduated and eventually became the team's offensive coordinator before moving to the NFL. His stints there included quarterbacks coach for the Jets, 49ers and Bears before moving back down to the college ranks to become offensive coordinator at Stanford. In Palo Alto he worked with Andrew Luck. Hence, no surprise when he was reunited with Luck this season.
"I benefitted from the exposure that I had and then I was able to package and present myself in a way that ultimately made the quarterback position the priority in the things that I wanted to do," Hamilton said.
"I had a ton of success at making quarterbacks successful starting out when I was at Howard," he continued. "From there I went into the NFL and worked with Paul Hackett, Jimmy Ray, Norv Turner, Jim Harbaugh, a lot of guys who had experience making quarterbacks successful."
Hamilton's story is one to celebrate, but it's also troubling in that there aren't many cases like his out there. How do we change that?
"As we evolve at the quarterback position and you have more African-American quarterbacks playing at the highest level, in time you're going to see more African-American quarterback coaching candidates and in turn you have more offensive coordinator candidates," Hamilton said.
Here's hoping so. Still the current coaching state is troubling and while Hamilton's perspective is both accurate and enlightening, one can't help but wonder about the non-empirical factors. Whose eyes are we often looking through when it's decision-making time and what are those eyes seeing?
Eight teams replaced head coaches this offseason, and not one African-American was chosen among the lot. It surprised me that in a league often full of retread coaches, that former Bears coach Lovie Smith didn't claim one of those openings. Chip Kelly, Doug Marrone and some guy named Gus Bradley were better options than a guy who led his team to a Super Bowl? Wow.
"Look at how Lovie Smith was treated as a former head coach versus how Andy Reid was," says Mehri. "They both have established track records, Kansas City wouldn't even let [Reid] leave [after the interview], and then Lovie has three interviews and didn't get selected, that was disappointing."
Mehri also says he was disappointed that Jim Caldwell, currently the other black offensive coordinator and former Colts head coach, wasn't selected.
To their credit, African-American coaches have taken the high road on the issue. Hamilton focused on readiness, not race, during our 20-minute interview.