The Week in Sports: Bolt, Jamaicans Dominate Sprints at World Championships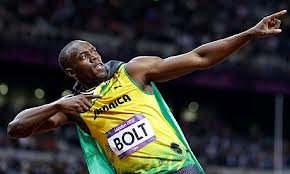 Jamaican track star Usain Bolt captured three gold medals Sunday at the 2013 world championships in Moscow, becoming the most successful athlete in the history of the world championships.
Bolt, who missed out on the 100-meter championship two years ago after being disqualified for a false start, redeemed himself by helping his team to win the 4x100-meter relay. Combined with an identical 100-200-relay triple from Shelly-Ann Fraser-Pryce, Bolt played a role in giving Jamaica the first sweep of six sprint events.
COLLEGE FOOTBALL
NCAA Denies Ex-Marine Football Eligibility
Steven Rhodes, a Middle Tennessee freshman who completed five years of active duty in the Marines this summer, is appealing an NCAA rule prohibiting him from playing this season because he participated in a military recreational league.
The rule states that student-athletes who do not enroll in college within 12 months of graduating high school will be charged one year of collegiate eligibility for every academic year they play in organized competition.
By NCAA standards, the 24-year-old's participation in the recreational league at the Marine base counted as "organized competition" because there were team uniforms, game officials and score was kept. Even though Middle Tennessee won a partial appeal regaining two years of eligibility for Rhodes, he's still appealing to play this season.
NFL
Dolphins TE Keller Injures Knee, Out for Season
Miami Dolphins tight end Dustin Keller will miss the entire season after injuring his right knee during Saturday's preseason game at Houston.
Keller was carted off the field in the second quarter after his leg bent awkwardly as he was tackled by D.J. Swearinger on an incomplete pass.
Keller signed a one-year, $4.25 million contract with the Dolphins in March after playing five seasons with the New York Jets.
TENNIS
Nadal, Azarenka Win Cincinnati Championships
Rafael Nadal capitalized on his limited opportunities Sunday against hard-serving American John Isner, wrestling away a 7-6 (8), 7-6 (3) victory in the Western & Southern Open final in Cincinnati.
With last week's victory in Montreal, the 27-year-old Spaniard now has won consecutive hard-court championships for the first time in his career. It was his fifth Masters win this season and first ever in Cincinnati.
In the women's final, Victoria Azarenka came back to upset Serena Williams 2-6, 6-2, 7-6 (6), who was also bidding for her first Cincinnati title.