Cavalia Offers Discount for 'Odysseo' Amid Shutdown, Furloughs
8/20/2013, 3:10 p.m. | Updated on 10/1/2013, 2:48 p.m.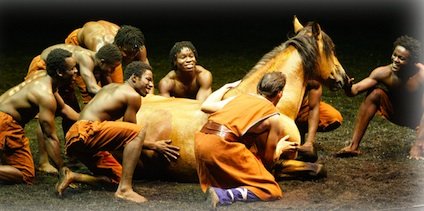 As Washington moves forward with the first shutdown of the national government in 17 years, Cavalia's producers offer the D.C. area a 50 percent discount for limited time only.
The rebate will apply to all tickets for Cavalia's newest production, "Odysseo."
"The shutdown of the national government will affect thousands of employees and businesses in the Washington, D.C., area," said Normand Latourelle, Cavalia's founder and artistic director. "Considering the impact of the shutdown on the local economy, we want to offer a special promotion so everyone can experience the magic of Odysseo."
The show premieres under the White Big Top at National Harbor in Maryland on Wednesday, Oct. 16. The production, which mixes equestrian arts, stage arts and high-tech theatrical effects, will feature 63 horses and 47 artists.
Cavalia, a Montreal-based entertainment company, specializes in the creation, production and touring of innovative shows for audiences of all ages.
Tickets can be purchased online at www.cavalia.net, by calling 1-866-999-8111, or in person at the box office on the show site, located at the Plateau in National Harbor. The special discount is valid through Tuesday, Oct. 8.