D.C. Mayor Gray Proclaims 'Day of Non-Violence'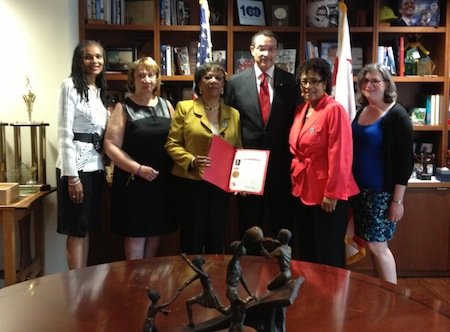 D.C. Mayor Vincent Gray joined more than two dozen other elected officials throughout the nation in declaring Thursday, Aug. 22 a "Day of Non-Violence."
"It has become apparent that it is in our best interest to acknowledge the benefits of, and to disseminate information about resources in both mental health and to teach non-violent methods as a means to change the culture of America," Gray said in his proclamation.
The initiative is spearheaded by the District-based Black Women for Positive Change, a nationwide civic network dedicated to preserving and strengthening the United States' middle and working classes.
"It is imperative that national, state and local leaders actively promote the concept on nonviolence in their cities and states and among churches, schools, recreational centers and in the workplace," the network said in an issued statement. "There are too many acts of senseless violence in America, and they must stop. … We hope many others will educate their local communities about the importance of teaching children and youth about power of non-violence."
The day corresponds with a summit in the District that will include discussions surrounding Dr. Martin Luther King Jr.'s focus on non-violence.