Excitement Fills Air at Cardozo, Dunbar High Schools after Renovations
When the sprawling Francis L. Cardozo Education Campus in Northwest opens next week for the 2013-14 school year, it will do so with new classrooms, updated artwork and a restructured athletic field and gymnasium after nearly two years of extensive renovations.
The 97-year-old high school received a $100 million facelift that had been in the works since December 2011. The renovations, which also include a new central staircase, have allowed much of Cardozo's unique architecture and its picturesque hillside views to remain intact.
Jesse Robbins, an architect with the Vermont-based Freeman French Freeman firm, lauded the contractors for preserving the school's original design.
"I come from a green-building perspective, and the most sustainable building, in many cases, is the one that's already there," said Robbins, a former Washingtonian who has tracked the renovations through magazine photos.
The school, constructed in 1916, is listed on the National Register of Historic Places. The renovations were part of the D.C. Education Reform Act of 2007.
"Old schools like Cardozo have the advantage of having been built with high ceilings to deal with warm climates when heat rises," Robbins said, "and a lot of the schools in D.C. have natural ventilation already built into them. These schools were very well constructed, they're sturdy buildings and it just makes more sense to renovate them than to build newer facilities."
Robbins said that revamped Cardozo in a manner that maintained its hilltop views is a plus.
"Studies show that when students are provided ample [flows of] daylight in their classrooms, it's more relaxing and, overall, helps to create a healthier environment for everyone in the building," he said.
A new Dunbar Senior High School in Northwest will also open Monday. A ribbon-cutting ceremony was held on Aug. 19.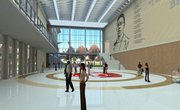 Both Mayor Vincent C. Gray and D.C. Rep. Eleanor Holmes Norton are alumni of the original school, which is named for poet Paul Laurence Dunbar and is considered the nation's first public high school for black students.
"It's a warm environment that's very conducive to learning," school principal Steve Jackson said. "When students return next week, they can expect a new state-of-the-art, green technology building that's spacious and full of light. The synergy here is extremely high."
Jackson said some students toured the facility and participated in an overnight lock-in as part of an orientation session.
"It was amazing," Jackson said. "They were very intrigued by their new surroundings are excited about attending classes."