How the Big Six Fight for Jobs and Freedom Continues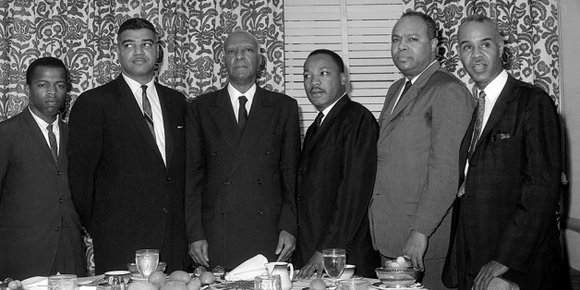 For any detractors who think major civil rights organizations are irrelevant, Bob Ross says recent developments that adversely affect African Americans are a not-too-subtle reminder of the need for these organizations' continued activism.
Ross, 68, president of the Prince George's County branch of the National Association for the Advancement of Colored People (NAACP), said civil rights organizations are needed more than ever.
"If that was the case – that we're irrelevant – all these organizations would not still be involved in fighting for civil rights and human rights in this country," said Ross, who's headed the chapter since 2011. "Since [the] Trayvon Martin [verdict], and the Supreme Court's decisions on voting rights and affirmative action, the organization's membership is skyrocketing. The NAACP has a six-week backlog for membership."
The NAACP, other traditional civil rights organizations, unions, individuals and organizations who are concerned about justice, freedom and equal rights will gather on the National Mall on the morning of Aug. 24 to celebrate the 50th anniversary of the historic March on Washington. In 1963, more than 250,000 people descended on the Mall for the March on Washington for Jobs and Freedom. Organizers and the civil rights groups they represented were the (Roy Wilkins) NAACP, Congress on Racial Equality (James Farmer), Southern Christian Leadership Conference (the Rev. Dr. Martin Luther King, Jr.), the Student Nonviolent Coordinating Committee (the Rev. Dr. Martin Luther King, Jr., the Brotherhood of Sleeping Car Porters (Asa Phillip Randolph), the National Urban League (Whitney M. Young).
And while he didn't represent one particular organization, activist Bayard Rustin was one of the event's primary strategists.
Ross said his chapter works closely people and organizations on issues of common concern. Members work with school administrators, addressing problems and challenges so that children have the proper environment in which to learn.
"We have the most affluent and most educated African-American community in the country with failing schools. It makes no sense," said Ross. "Seventy percent of kids are on free and reduced lunches – some kind of assistance. Kids can't go to school hungry. And high school kids, a lot of them won't take it because of the stigma."
"We have some issues – in college, for example, some young people are $100,000 in debt. College wasn't designed to do that. With that kind of debt, you go to poverty because you can't find a job. A person would do better going to trade school or vocational school. Education is for your own personal development. Kids are coming out with degrees but no the skill set."
Ross said "people don't know how to teach our children" and he and Shelton talked about the need for black children to be taught by teachers who understand and care for them.
He said he's excited at the new energy that is infusing the civil and human rights movement.
"The problem is that our people have been asleep too long. We went to sleep but the Supreme Court decision and Trayvon Martin incident have awakened individuals. They realize they have to go back to their roots."