One on One with Congressman John Lewis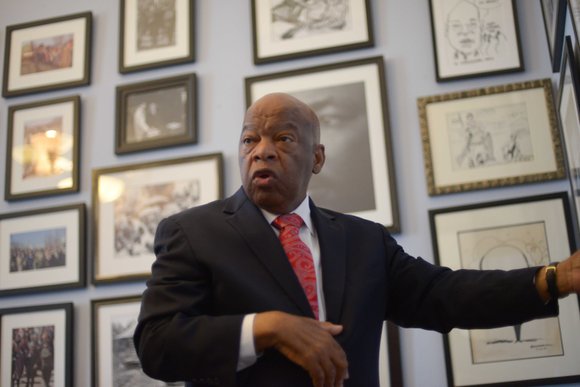 Often called "one of the most courageous persons the Civil Rights Movement ever produced," Congressman John Lewis has dedicated his life to protecting human rights, securing civil liberties, and building what he calls "The Beloved Community" in America. His dedication to the highest ethi- cal standards and moral principles has won him the admiration of many of his colleagues on both sides of the aisle in the United States Congress. While still a young man, John Lewis became a nationally recognized leader after being named Chairman of the Student Nonviolent Coordinating Committee (SNCC). By 1963, he was dubbed one of the Big Six leaders of the Civil Rights Movement. At the age of 23, he was an architect of and a keynote speaker at the historic March on Washington in August 1963. Mr. Lewis sat down recently with Informer publisher Denise Rolark Barnes to share his thoughts and experiences on Civil Rights and the March on Washington.
What was the significance of the 1963 March on Washington?
The march on August 28, 1963 was very important for America, but more important for the African American community and all Americans that participated and for those that didn't participate, but shared our hopes and dreams. It educated and helped sensitize millions of people to our plight and our problems. It was a petition to the president of the United States and to the members of Congress.
It brought attention to the unbelievable system to discrimination that existed in the heart of the Deep South, and it was like bringing the problems to Capitol Hill, to the front door of America, to the Mall, to the feet of Abraham Lincoln. And it gave people a sense of hope that by using their marching feet, and being present in Washington, they could change things. And today, 50 years later, America's a different America; it's a better America. We're not there yet, but we're not what we use to be.
Back in 1963, it was very difficult to register to vote simply because of the color of your skin. There was still segregation in hotels and restaurants all across the South. Some stores you could go in and by paper or a book, but you could not go to the lunch counter to get something to eat or to drink.
What was going on in the South and in so many other parts of the country was an affront to human dignity. So we had to march.
Dr. King's Role
Many people believe Dr. King, solo, planned the March. It was not his idea. He had planned a Prayer Pilgrimage in 1954, on the anniversary of the Brown vs. Board of Education decision, but it was Mr. Randolph's idea for the March on Washington. He always wanted to have a massive march for jobs and to end discrimination in the workplace. He was the one that called us all together. He was the Dean; he was older than any of us; he was more respected as the leader, older and not as young as a Dr. King, Whitney Young or myself. If anyone could hold people together, it was A Philip Randolph.