College Retention: Keeping Students Engaged and Enrolled
Deborah D. Grison | 8/21/2013, 3 p.m.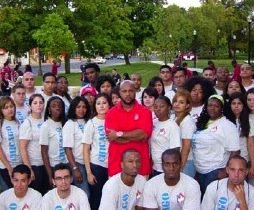 In the world of academia, the terms freshmen retention and student retention are often referred to when there's an overall disruption in student enrollment. However, the Office of Retention on many college campuses remains extremely active in supporting a student's college career from the moment they sign on the dotted line. These offices ensure that students have the resources needed for a successful matriculation and continue to be full-time businesses for institutions of higher learning.

Such is the case at The University of Illinois at Chicago (UIC), a major research university offering cultural, business and entertainment opportunities with the bustling city as its backdrop. Boasting nearly 2,574 instructional faculty members, with a "one-faculty-member-to-every-11-students ratio," the university offers a more personal learning experience. Allen J. Bryson, the director of Graduate Programs said, while UIC has a great track record for retention, there are many reasons that students leave school.

"There is a myriad of reasons why students do not return or complete their undergraduate programs. These range from poor advisement on the creation of class schedules leading to overload and the student becomes overwhelmed, to financial aid issues and also the student's adjustment to a large campus and student population," Bryson said.
In an effort to maintain such impressive student enrollment numbers, Bryson's department developed the Summer Research Opportunities Program (SROP), a project geared toward students of African American, Latino and Native American cultures. The program provides a number of support services such as advising, workshops, seminars, counseling, and a crisis center; as well as dormitory programs that cater specifically to freshmen.
Bryson said that SROP not only supports students from their acceptance into UIC through graduation but, also helps students navigate graduate school.
"It is our charge as educators and administrators to go beyond a job description on paper and be the example in real life situations and see our students beyond the finish line of undergraduate graduation and into their rightful place as productive, world class, global citizens," said Bryson.
With 85 percent of all SROP graduates going on to the graduate schools of their choice and 90 percent completing those degrees, the SROP model has proven beneficial.
Sasha McFadden, a recent graduate of Duke University, said had retention programs such as SROP been in place several years ago, it would not have taken her six years to complete her undergraduate program. McFadden moved from D.C. to the Midwest to attend a Big 10 university, but found she could not get her academic or social footing.
"I had roommates who had never seen a black person in person before and I did not make friends easily. I also missed my family. No one ever tells you how much going away from home magnifies the need for familial connections. I ended up changing schools three times before successfully completing my degree," said McFadden, 29.
"I had relatives in North Carolina and that helped heal that loneliness, though it never went away. One of my uncles told me that I needed to look upon college as an adventure the way he had the Navy. It may not all be easy or comfortable, but it will be rewarding in the end. I couldn't reach my goals and nurse the people back at home at the same time," she said.