D.C. Residents Considered Physically Fit
Obesity Rate Second-Lowest in the Country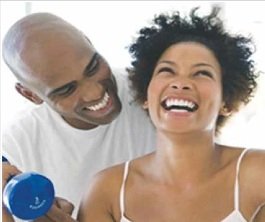 For Karen Banks, the decision wasn't easy.
Doctors advised the Northeast resident to strongly consider dieting, because she suffered with cardiovascular problems.

"I love to eat and that in itself isn't a real problem," said Banks, a clinical psychologist who treats patients for anxiety, depression, and other mental-health related illnesses. "I have told many a client that we should not let anything control us, that we must take control. Yet, I found myself not being able to give up pork chops, steak and certain things that were necessary for me to [stay] healthy until the doctors finally said, 'You are at-risk for a major heart attack,'" said Banks, who lives in Northwest.
At more than 250 pounds and standing 5-feet-8 inches tall, Banks said she needed to lose 100 pounds to reach her appropriate body mass index (BMI). Losing the weight required 11 months of gym workouts, resisting fast foods and those with high salt content. It also required a lot of self-discipline, she said. "But, I made it and I feel so much better."
Now, like so many other adults in Washington, D.C., Banks frequents local gyms and often bikes, jogs or walks to her destinations throughout the District.
According to an Aug. 6 report from the Centers for Disease Control and Prevention (CDC) in Atlanta, Ga., which is part of CDC's 2012 Behavioral Risk Factor Surveillance Survey, adult obesity rates in Washington, D.C., registered at 21.9 percent. Only the state of Colorado enjoyed a better percentage, at 20.5 percent.
Louisiana weighed in at 34.7 percent; Mississippi hit the scales at 34.6 percent; and Arkansas rated a bulky 34.5 percent, and counted as the worst in terms of obesity. Maryland at 27.6 percent; and Virginia at 27.4 percent ranked 26th and 27th respectively out of the 50 U.S. states and territories included in the report.
Overall, one in every three adults and one in every six children in America are obese. The statistics are based on data collected in 2009 and 2010. The numbers also revealed increases in certain demographics, including the African-American community.
"There has been an increase [in weight] in males overall, especially adult males," said Dr. Cynthia Ogden, an epidemiologist and branch chief at the CDC's National Center for Health Statistics in Hyattsville, Md. "It's important to track obesity, because we know that it's related to certain types of cancer, Type 2 diabetes and heart disease. It really is linked to many chronic health conditions in adults," Ogden said.
Monitoring children remains important because "obese children often track to be obese adults," she said.
The average BMI for men and women in the U.S., currently checks in at 28.7. A BMI of 25 or greater constitutes an individual as being overweight, while a BMI of 30 or greater, means that a person is considered obese.
In the District, the average BMI is less than 25, CDC officials said.
The prevalence of persons classified as overweight or obese stands at 68.8 percent of the overall population – 73.9 percent of men are obese, while 63.7 percent of women are considered to be overweight.