D.C. Residents Considered Physically Fit
Obesity Rate Second-Lowest in the Country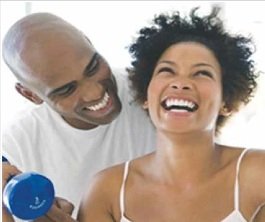 The prevalence of obesity in children stands at approximately 17 percent, nationwide.
Obesity rates vary based on income, said officials at the Robert Wood Johnson Foundation (RWJF) in Princeton, N.J. More than 31 percent of adults ages 18 and older who earn less than $25,000 per year are obese, compared with 25.4 percent of those who earn at least $50,000 per year.
In addition to the latest data that indicates a stable rate of adult obesity, CDC statistics show, 18 states and one U.S. territory experienced a decline in obesity rates among preschool children from low-income families.
"After decades of unrelenting bad news, we're finally seeing signs of progress. In addition to today's news about the steady rates for adults, we've seen childhood obesity rates declining in cities and states that were among the first to adopt a comprehensive approach to obesity prevention," said Dr. Risa Lavizzo-Mourey, RWJF's president and CEO.
"But, no one should believe the nation's work is done. We've learned a lot in the last decade about how to prevent obesity. Now, it's time to take that knowledge to scale," said Lavizzo-Mourey, 59.
Khadija Tribble, a Southeast Washington, D.C., resident recently featured in the Huffington Post's report, "State of Black America," said she had planned to go sky diving, but her plans were derailed because she was overweight, and cautioned by the flight crew not to take the plunge. Tribble has since become an advocate for healthy living. Currently, she's the director of operations for the Center of Excellence at United Medical Center in Southeast.
Approximately 42 million African Americans live in the United States and, 14.2 percent, or 558,600, are obese, CDC officials said. Of the approximately 248 million white Americans, living in the U.S., nearly 25 percent or 62 million are obese.
However, CDC officials noted that the District as a whole counts as mostly non-obese.
Also, African Americans living in poorer neighborhoods continue to face numerous challenges in maintaining a healthy weight.
"Where I live, there is not a gym within two miles; there is one grocery store that serves 73,000 folks; there is high crime, which is a big deterrent for me being outside; and five recreation centers, which are subpar at best," said Tribble, 43. "In terms of restaurants … there is an IHOP, a McDonald's, a Popeye's, about six or seven Subways, a 7-Eleven and maybe 10 to 15 carry-outs."