EDITORIAL: Booker Appears Headed to U.S. Senate
8/21/2013, 3 p.m.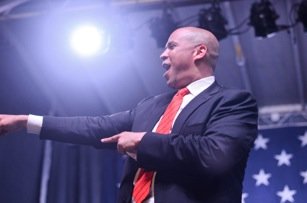 Newark Mayor Cory Booker easily won the Democratic primary last week and the expectation is that he'll be easily elected to the U.S. Senate to complete the 15-month term of the late Sen. Frank Lautenberg.
Booker, 44, has benefitted from widespread name recognition and high poll numbers. A rising star in the Democratic Party, he's expected to one day run for president. There have been the inevitable comparisons to President Barack Obama but Booker is a man who brings his own sense of style, political acumen and acuity to his job.
While Democrats and their Republican colleagues carry water for the corporate elite to the detriment of the poor and the middle class, Booker's prospective elevation comes at a time when Democrats must hold onto the 56 seats they already have. With the 2014 midterm elections looming, prognosticators like Nate Silver are gazing into their crystal balls and calling the Senate a toss-up.
Nothing happens in a vacuum, so the Supreme Court's decision to gut the Voting Rights Act and the rush by several states to quickly implement restrictive voting laws aids the cause of Republicans seeking to block non-whites from voting and thereby increasing their chances of holding or gaining seats in Congress.
Republicans will need to win six seats to wrest control of the Senate from their rivals. Silver believes Republicans could end up with 50 or 51 seats. If Republicans become the majority, the prospects for Obama's agenda and legacy, and for policies and programs that most black people embrace would be dim.
The Supreme Court's recent rulings on Affirmative Action, the Voting Rights Act as well as the Trayvon Martin verdict have energized people of color. This is also reflected in the sentiments expressed by those planning to participate in the 50th anniversary of the March on Washington. Black people, people of color, the poor, students and the elderly are under siege.
Voting for Booker is step one in ensuring that Democrats hold onto the Senate.
The next step is to make sure that we come out to vote in numbers that rival or exceed that of the 2012 general election so that we can decisively beat back the forces of ignorance, intolerance and bigotry.