Larry Graham to Perform at Birchmere
Legendary Sly & Family Stone Bassist Brings Band to Area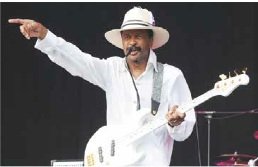 Larry Graham has little need to demonstrate his funk prowess.
His impressive resume speaks for itself.
The former Sly & the Family Stone bass player, who invented the "slapping technique," which radically changed the range and variety of his favorite instrument, leads the Larry Graham and Graham Central Station into the Birchmere in Alexandria, Va., for a performance on Thursday, Aug. 29.
The 7:30 p.m., show promises a slew of Graham and the band's biggest hits, including, "One in a Million You," "Your Love," "The Jam," and "It's Alright."
Graham is also expected to cut loose with hits such as, "Thank You Falettinme Be Mice Elf Again," "Everyday People," and "I Want to Take You Higher," all of which served to indelibly etch the name Family Stone into the annals of popular culture and funk music.
"Whether you've been a friend for decades or a more recent friend, it is my great pleasure to bring you joy by means of my music," said Graham, 66.
Born in Beaumont, Texas on Aug. 14, 1946, Graham began preparing for life as a performer at age 5 when he learned how to tap dance.
A short time later, the musically-inclined youngster learned to play the piano and joined his high school band. Instead of the piano, however, he opted to play drums.
At 15, Graham joined his mother's band, "The Dell Graham Trio," playing guitar while his mom played piano. It wasn't long after that, Graham's mother decided to change the trio into a duo with just a bass guitar and a piano player.
"I compensated for not having a bass drum by thumping the strings, and I made up for not having a snare drum by plucking them," he said of the unique "slapping technique," he made famous.
Graham joined Sly & the Family Stone in 1967 and help the band record its first album, "A Whole New Thing." Their sophomore release in 1968, "Dance to the Music," produced several top hits, including the title track and, "Everybody Is a Star."
Graham left the group in 1973 to form Graham Central Station.
The band's origins date back to when guitarist Neal Schon of Santana formed the band, Azteca, along with Graham and Gregg Errico, also of the Family Stone, and Pete Sears of Jefferson Starship. While Schon ultimately formed the group, Journey, Graham and the others counted as Graham Central Station.
In 1979, Graham launched a solo career and became known for his soulful ballads. He released one of his signature hits, "One in a Million You," in 1980, earning him a Grammy nomination.
In the 1980s, Graham scored hits with Aretha Franklin and comedian Eddie Murphy.
In 1993, he was inducted into the Rock and Roll Hall of Fame as a member of Sly & the Family Stone.
"There's nothing he can do wrong with that guitar," said Eddie Lett, of Southeast, as he took in a local festival earlier this week. "I hope I can still get a ticket because I don't know if I'll get the chance to see Larry Graham again," said Lett, 47.
Lett's fiancée, Marissa Blackman, said she's hoping her sweetheart surprises her with a date to see the legendary bassist. "I only wish that Sly would perform with him," said Blackman, 49. "Now, there's a real good show. But, I'll gladly spend a night listening to Larry and his crew," she said.
Tickets are $69.50. For more information or to make reservations, call 703-549-7500 or visit, www.birchmere.com.