Lennie James Straddles Fence between Cop and Perp in AMC's 'Low Winter Sun'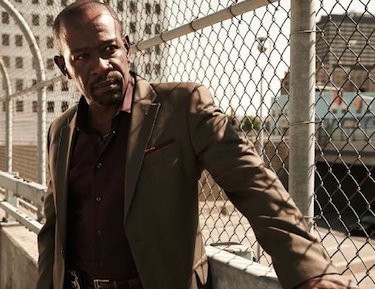 Lennie James is no stranger to American audiences. Though the Nottingham-born actor got his start at the Guildhall School of Music and Drama, in London, and he occasionally slips into his British mother-tongue, James is best known for performances in such American productions as the CBS drama "Jericho," and the AMC series "The Walking Dead."
At his best James embodies criminals and cops – and of late, criminal cops. In fact, his finest hour may have been as the troubled Detective Chief Inspector Tony Gates in the BBC drama "Line of Duty," in which he portrayed a Cop of the Year involved in an adulterous affair with a murderer. James' delivery proved haunting, provocative, and even loveable among audiences, who watched him pit his ego and sexual desires against his marriage and career.

"I like to play guys with a slightly ambiguous moral center, and what's going on in their heads is as important as what's coming out of their mouths," James said.
With the premiere of the new AMC drama Low Winter Sun, James sits poised to recreate the same dynamic intensity with the character Joe Geddes.
Described as "part cop, part perp," Geddes is a clever veteran homicide detective, who along with a colleague, Frank Agnew, commits murder. As the two grow increasingly suspicious of each other's motives, the stage is set for an awesome series.
When asked about his approach to becoming Geddes, James said, "I really liked the character. He's really the type I like to play in that he has a very present, internal dialogue going on. He's at war with himself as much as he is with other people, and what he doesn't say is as important as what he does say."
AMC, in many ways has become the BBC of America, opting for cerebral programming that consistently challenges both the actors and the audiences to think, and rethink the concepts of right, wrong, good, and evil. Shows like "The Killing," "Breaking Bad," and "Hell on Wheels," have raised the bar of television dramas to a surprisingly wonderful new level.
James previously noted that the formulaic run of British programs allows networks to air an entire season (or series) of shows in a single week, or as little as a few days. The benefit in his estimation was that there was no real level "of pressures that American television has with sustaining characters over long periods of time, and you can make brazen, bold, and surprising decisions about the characters, and also blur the lines," James said.
But will James' culture shift prove a cultural shock? Not if his compatriots Eammon Walker, Idris Elba, and Aml Ameen are any indication.
James, 47, said that the transition from London to Detroit has proven less a theatrical culture shock than a chance to shift his skills dialectically.

"I came into it thinking not only about the city that my character lives in, but the job that my character does. To a certain extent, if you're playing a police officer in homicide, in the course of your job you're going to meet people from all different strata of life. You're going to have to be understood by all those different types of people. Your way of speaking adjusts," James said.

James hits his mark, dialectically, delectably.